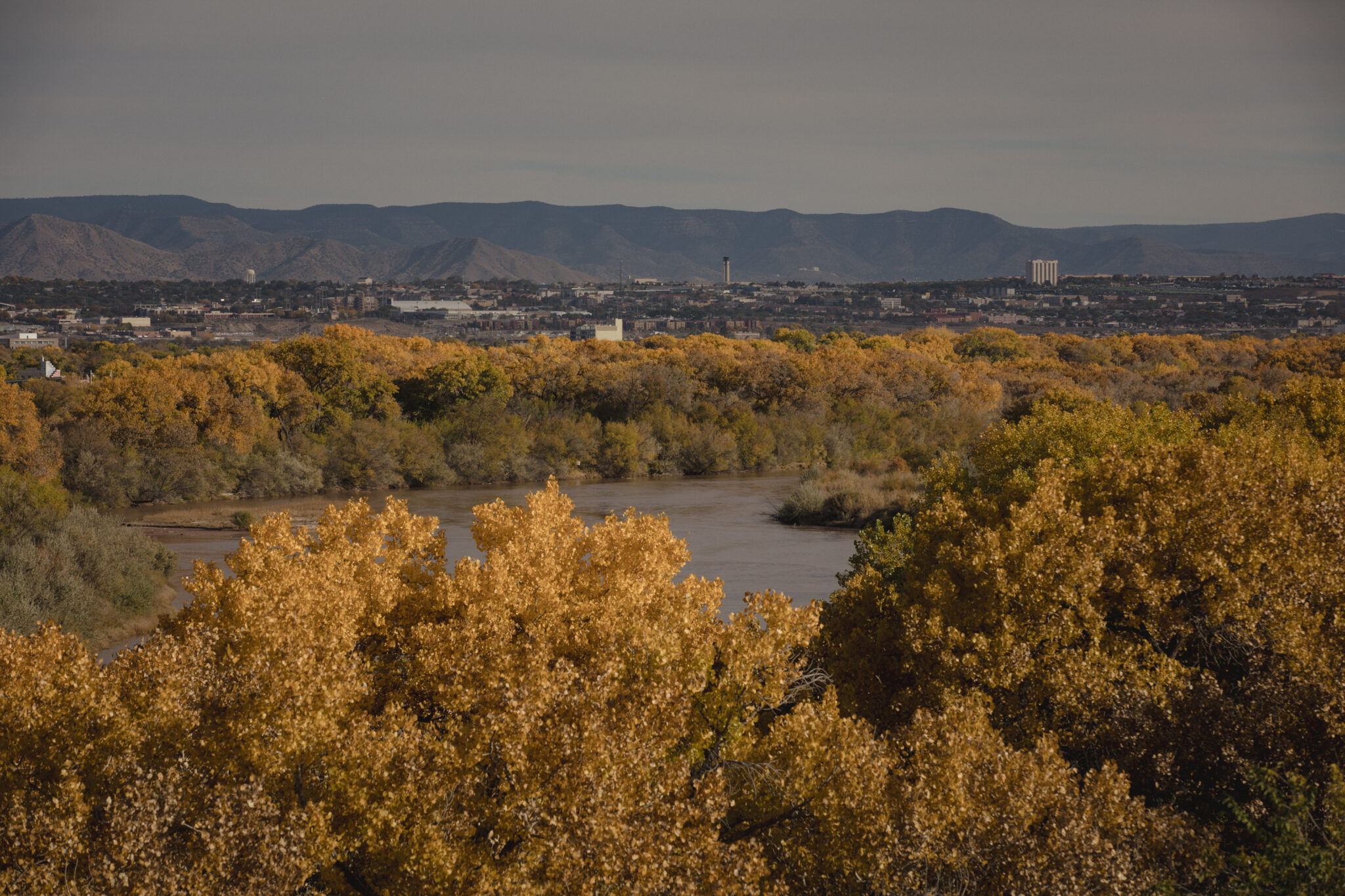 By Elizabeth Miller, New Mexico in Depth
This story was originally published by New Mexico In Depth on April 11, 2023
Though the Rio Grande runs through the heart of New Mexico's biggest city, you can easily miss it. Even from places where you'd expect to see water — designated parking areas near the river or paths along which you carry a boat to cast off from the nearest bank — it's often invisible behind a screen of cottonwoods. Through much of the city, it hides behind businesses, warehouses, and strip malls.
From the riverbank or on the river itself, these curtains create a rare reprieve, a place in an urban area that can be mistaken for a pocket of wild. City noise infrequently penetrates the cottonwoods that beat back the heat and hum with insects and birdsong on summer days. The river often runs a murky, reddish beige that matches its muddy banks.
But invisibility also means the river's more easily forgotten. That's worrying for a river as water managers and stakeholders plan for the next five decades of water use in New Mexico — a period that will witness tough choices as a dire and historic drought continues and the river is unable to give everyone what they want or need.
Norm Gaume, a water resources engineer who once served as director of the New Mexico Interstate Stream Commission and as a water manager for the City of Albuquerque, has watched and participated in water planning in the state for decades. He agreed to take me down the river on the first warm spring day last year to talk about the future of the Rio Grande from the river itself. As soon as we launched downstream in his canoe, we began passing examples of ill-considered planning around the river: houses built in flood plains and scattered jetty jacks once planted on the riverbanks to channelize the historically sprawling riverbed and now primed to rip open a boat.
In the stretch where our trip finished, the river was so low that we had to wade, instead of float, back to our vehicles. It drove home Gaume's core point: "All the desires for this poor little river exceed what it is."
That situation is getting worse, and the consequences have us, as he said, "borrowing from the future to pay the river back today."
New Mexico's future will almost certainly be hotter and drier, with profound implications for our water and people who use it for homes, industries, farms, and recreation. Failing to plan holistically leaves the state running from one crisis to the next, whether that's farmers weathering another dry season or biologists racing to save endangered fish in a vanishing waterway, and facing seemingly impossible choices, and improbable solutions, while time runs out.
New Mexico doesn't have a good track record on planning when it comes to water. And now, as it nears the finish of drafting a 50-year water plan, some say they've continued to fall short: dedicating few staff and too little funds, not involving the right people and communities, and not imagining a future that encompasses the full spectrum of river uses, including the very existence of some species.
"This is not one of those issues that you can say, 'Well, if we take a step in the right direction, in 20 years, we'll have made headway,'" said Gina Della Russo, an ecologist who has worked along the Rio Grande for more than three decades. "We don't have 20 years. We didn't have 20 years 20 years ago."
Climate change forces new approach to water planning
The Rio Grande has never been an easy river to live alongside. Through its 1,900-mile course, which begins in Colorado's San Juan Mountains and ends in the Gulf of Mexico, running through broad valleys and tight gorges along the way, it's known as dynamic and variable.
Historically, spring snowmelt flooded its banks. The river frequently changed course through its floodplain. Species that grew up alongside it, from the Rio Grande silvery minnow to cottonwood trees, adapted to that variety. Now, they depend on it. Silvery minnows spawn in spring runoff, and cottonwood's white drifts of seeds sprout only after that rush of water leaves muddy ground.
But settlers saw the river's erratic flows, side channels, backwaters, sweeping floodplains, and shifting banks as a hostile neighbor. As the communities of Albuquerque, Las Cruces, El Paso, and Ciudad Juarez, plus more than 200,000 acres of irrigated agriculture, arose alongside the river, humans harnessed it to produce more predictable flows. Levees and jetty jacks, asterisk-like stars of metal, set the river into a specific channel, while dams steadied its flow.
Now, a changing climate jeopardizes the river's uses. Rising temperatures turn snow to rain. Spring runoff is starting earlier; already, it's out of sync with when fish spawn and cottonwoods cast seeds. New Mexico's history of swinging from wetter to drier periods about twice per century perpetuates faith that rain will return, but when, exactly, it is impossible to say. The state is 22 years into drought, and forecasts anticipate hotter and longer dry periods to come as climate change moves the Southwest into unprecedented ground where what we learned from the past may not apply well to the future.
"You can't talk about water policy and investments without understanding the scale and scope of change that's happening," said U.S. Rep. Melanie Stansbury, who studied and worked in water policy and management for years before heading to Congress to represent New Mexico. "Sure, we can make micro-investments in different solutions that we tried in the 20th century and in the last few decades, but we really have to take a hard look at the science, figure out how we're going to manage this system over the next century, given climate impacts, a completely different hydrologic regime, and a completely different need for ways in which we're going to meet the existing and growing demands."
"It's just crucial that people understand this is not a one-time drought," Stansbury said. "This is the change that climate change has brought to these systems and we have to act now, because literally the future of our communities depends on it."
New Mexico has been barred from storing water upstream since June 2020 in large part because water held in a reservoir upstream that would have been sent to Texas was instead used to irrigate Middle Rio Grande farmers' fields through a painfully dry summer, and it now owes significant water to Texas. That water obligation is set by the Rio Grande Compact, a multi-state agreement that determines how to divvy up the river.
Without that stored water to add to flows all summer, said Page Pegram, Rio Grande Basin water chief for New Mexico's Interstate Stream Commission, the river will dry out, as it did in Albuquerque for the first time in 40 years last July. And that's actually the natural state of the river, she said. "Flow has been relatively low, snowpack has been relatively low, but really what we saw this summer and early fall, before the rains really hit, was really the natural flow of the Rio Grande."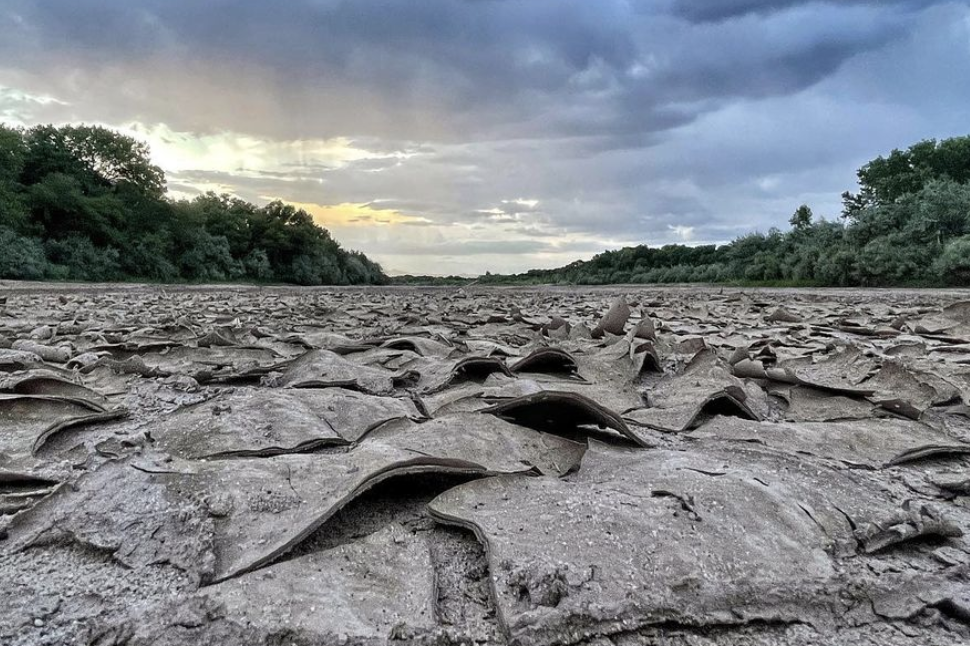 The prohibition on water storage upstream won't be rescinded until the water stored in Elephant Butte and Caballo reservoirs comes above 400,000 acre feet. It's currently around 150,000 acre feet.
"We can't assume that we're going to find more water anywhere, we have to assume that we've got to shrink the pie," Pegram said. "From the state's perspective, we just need to figure out how all different sectors can share in the shortage that we're seeing in the middle Rio Grande, and that includes environmental, agriculture, municipalities—everybody."
New Mexico is not alone.

"This whole region is grappling with water bankruptcy," said Ali Mirchi, a professor at Oklahoma State University who co-authored a recent paper on the drying Middle Rio Grande.
Even cities that lean on groundwater aquifers to supply municipal taps aren't safe from the drought-induced water crisis. Albuquerque relies on the Santa Fe Group Aquifer as well as the San Juan-Chama Drinking Water Project, which diverts water from the San Juan River to the Rio Grande to bolster supplies. That $400 million pipeline was built in 2008 to reduce reliance on an aquifer the city's water utility admits is overtaxed. Research in the early 1990s showed a reservoir once thought to be virtually limitless was being pumped twice as fast as nature could replenish it.
Viewing rivers on the landscape's surface and the aquifers, or groundwater, below it, as separate systems is a mistake, Mirchi said: "River water is our checking account. Groundwater is our savings account. So we're depleting our savings."
Worse still, when New Mexico drives up the amount of water it owes to Texas under the Rio Grande Compact, he added, that amounts to "maxing out the water credit cards."
Striving to plan
In 2005, then-Gov. Bill Richardson recognized the most significant threat from climate change was to the state's water sources. He tasked the Office of the State Engineer with drafting a report examining the changing snowpack, water availability and timing, increased water use by plants and people because of longer and hotter summers, and more frequent floods and droughts.
Anyone who has read Climate Change in New Mexico Over the Next 50 Years: Impacts on Water Resources, the scientific report published in March 2022 that will be foundational to the state's forthcoming 50-year water plan, will hear an echo of that Richardson-era report. New Mexico faces the same challenges today. All that's changed in 18 years is that more research has better characterized the consequences.
After Gov. Michelle Lujan Grisham tasked the Interstate Stream Commission with preparing a 50-year water plan, the commission's director, Rolf Schmidt Petersen, asked Nelia Dunbar, a volcanologist and director of the New Mexico Bureau of Geology and Mineral Resources, to organize drafting a scientific report, called the "Leap Ahead Analysis Assessment," to provide a foundation for creating the 50-year plan.
Dunbar assembled a team of authors, led by a climate scientist and a hydrologist, and the team spent hours in virtual meetings, brainstorming the reports' components and discussing the ripple effects of forecast changes.
"We need to recognize that we are going to be dealing with a scarcer resource, and we wanted to provide some parameters about just how much scarcer that resource is going to be," Dunbar said.
The 50-year plan is expected to soon be publicly released. But Mike Hamman, who leads the Office of the State Engineer, the state division tasked with drafting the plan, has said the effort faces "inertial issues." He called out his agency's limited capacity. Others have voiced concerns that the office is understaffed and underfunded, and facing so much turnover that too little expertise and too few staff remain to implement any new programs a plan might call for.
The Leap Ahead Analysis also excluded traditional ecological knowledge and expertise, said Julia Bernal, director of the Pueblo Action Alliance. The climate has changed over millennia, and Native communities have adapted to and survived those fluctuations.
"To not include them here is also doing a disservice to future climate mitigation plans," she said. "This concept of ecosystems not including communities has also been very problematic because we tend to categorize human communities as separate from the natural environment and that's just not the case."
Alejandría Lyons, coordinator for New Mexico No False Solutions coalition, said the process for convening stakeholder groups to support drafting the water plan put everyone in different rooms, with the business community, nonprofits, indigenous communities, and farmers meeting separately. Lyons, who has a background working to increase access to the river among communities of color, worries that the approach cost New Mexicans a chance for open dialogue: "I think that it's great that we were revisiting the 50-year water plan, but the way in which we're doing it, we are, again, siloing our communities, and so the same people are receiving the same information, and it becomes this kind of echo chamber."
In the end, she said, that may produce a plan ill-equipped to proactively address the crises on the horizon: "We'll see the kind of water management like we have in the last 10 years," she said, "where agencies are just picking up the pieces where they can."
Lack of funding hobbles water planning
As he dipped a paddle into the water on our trip downriver, Gaume called the previous iteration of a state water plan a "shelf report"— a ream of paper printed with ideas and predictions about the state's water future but with no actionable or enforceable elements. Lujan Grisham, who called for a state water plan in 2018, and the Office of the State Engineer requested $750,000 for this 50-year plan, but state lawmakers declined that request in 2020. The OSE pursued planning anyway, with just $350,000.
"The agency decided it was important enough that they would take it out of their hide, so to speak," Gaume said.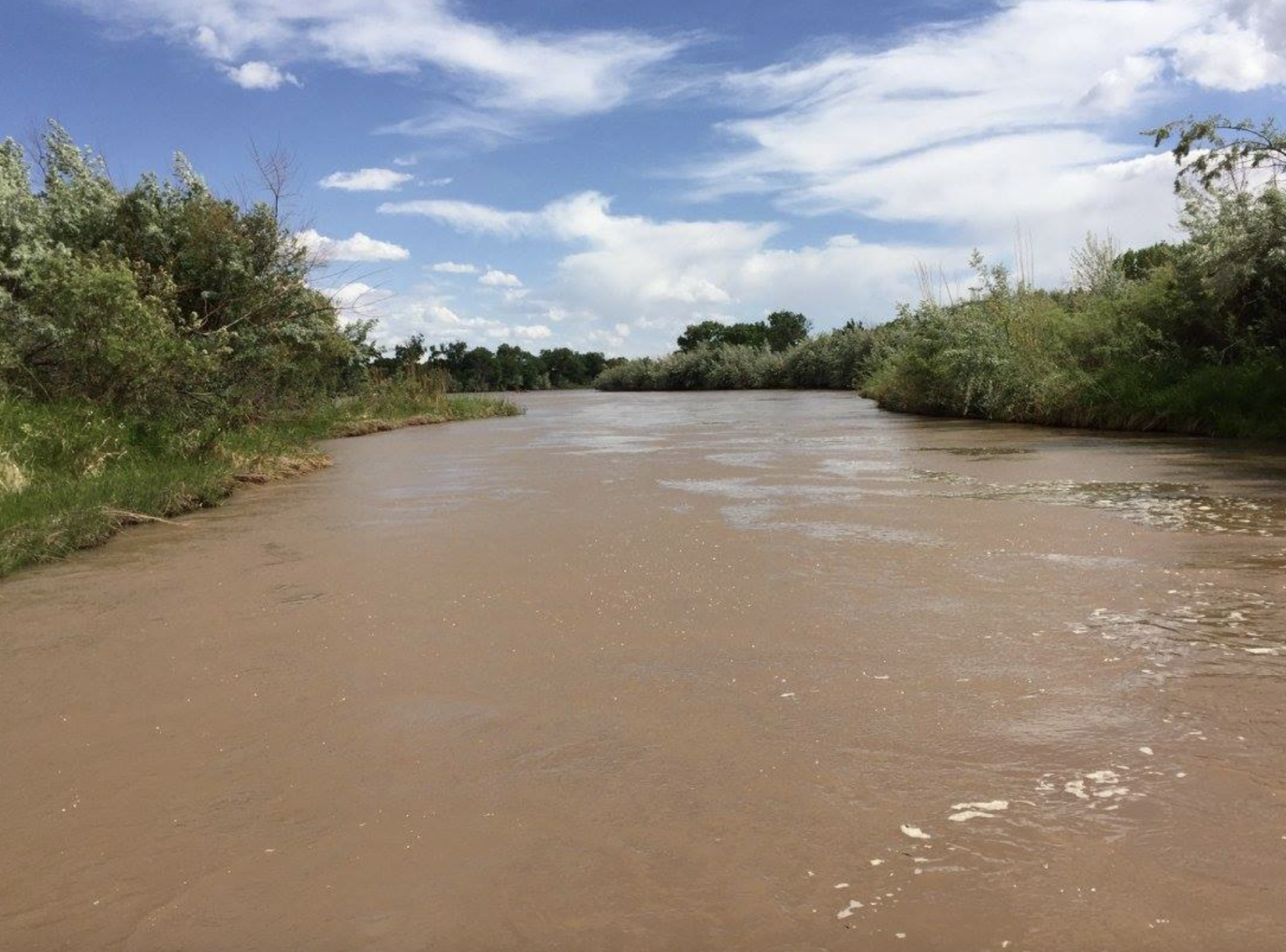 This year, the Legislature appropriated $250,000 in recurring money for the 50-year water plan, plus a one-time $500,000 allocation for the plan.
But the limited funding for this round convinces Gaume that New Mexico remains a state that "doesn't believe in water planning." Of the new 50-year water plan, he said: "Really all it will be is a plan to plan."
Short funding and little capacity—New Mexico's Interstate Stream Commission has two staff working on water planning; Colorado, for comparison, has 13—mean the state's plan can at best offer broad strokes, and leave working out the details to water planners working on more localized levels. Senate Bill 337, which passed on the second to last day of this legislative session, tries to map a path forward for that regional-level planning, as funding is available. The Office of the State Engineer estimated that it would need an additional full-time employee for the tasks the bill mapped out; the bill's fiscal impact report points out that state agencies regulating and enforcing water policy in the state have faced staffing issues, and the additional responsibilities assigned in this bill do nothing to improve that problem.
A heron skims ahead, a red-tailed hawk barrels into the thickets, and a porcupine sits in a cottonwood, a dark knot where branches join. The khaki-colored water leaves indiscernible shapes and shadows below the surface, dark rocks and pale sandbars the canoe skids off or sinks into. Some paddle strokes catch more mud than water. We pass a few people along the banks: a woman with two blonde kids in pants so wet they sag, an older man in a blue polo who asks how far we're going, five firefighters on fuels-reduction work, three young men with fishing poles.
As stakeholders vie for water where the demands already exceed what the river provides, the river so prone to running invisibly in the background has been left out entirely.
The Leap Ahead Analysis, when first released, did not include a chapter on rivers and managing ecological health. There are, however, chapters on agriculture and industry. Conservation groups brought this to the ISC staff's attention in late 2021.
"If you don't have a scientific foundation for those needs, then how do you expect to be able to form good policy?" said Tricia Snyder, who was then working with WildEarth Guardians, which has been watchdogging the Rio Grande for decades and filed repeated lawsuits for more ecologically sensitive management of the river. "If you are investigating the impacts on certain water uses and not others, then the state is already making decisions about which of those water uses will be prioritized in the future."
There wasn't time to add a chapter on rivers to the original Leap Ahead report, Dunbar said, but in December, the existing Leap Ahead report was replaced with one that includes a chapter on how river flows will change and how that will affect the physical condition of rivers.
"What we did not do, which I know the NGOs wanted us to do, was address endangered species, and recreation," Dunbar said. "They wanted us to really look at rivers in a holistic way, and my point there was, that is not the point of this report."
The point was to look at how the natural world was responding to climate change. But opening the scientific report to questions like those around endangered species or riparian vegetation restoration would require opening "the pandora's box of water rights, and that was not something we wanted to do," Dunbar said.
"I've poured countless hours of my life into this project and we had to have boundaries on this project," Dunbar added. "I spent every weekend for many, many months. This was not part of my day job, it was something I did on top of my day job."
The draft of the 50 year water plan has been with the governor's office for months, awaiting review before public release.
Whatever the future brings, Della Russo said, it's likely to come with tough decisions, and losses.
"But if those losses are balanced with longer-term resilience or stability in the system, then just help us understand how this is balanced," she said. "We know pressures are just going to build on water in this system. So help us understand how the Rio Grande, as a living thing, has an opportunity to survive all these changes."
The Water Desk's mission is to increase the volume, depth and power of journalism connected to Western water issues. We're an initiative of the Center for Environmental Journalism at the University of Colorado Boulder. The Water Desk launched in April 2019 with support from the Walton Family Foundation. We maintain a strict editorial firewall between our funders and our journalism.