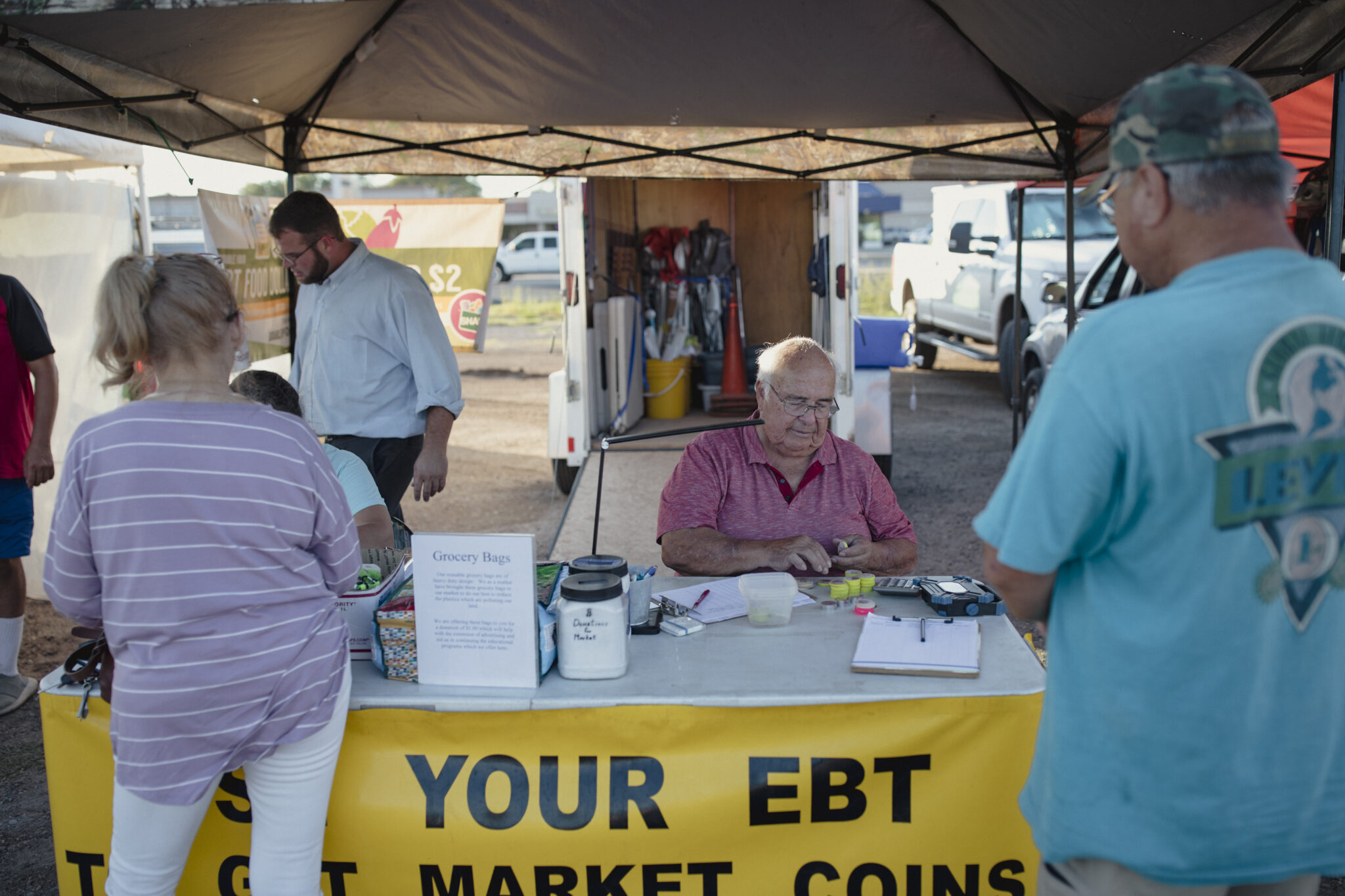 By Elizabeth Miller
Sitting at his booth at the Bosque Farms Growers Market, George Torres greeted customers all morning one Saturday last year. Many he knew by name and asked about their harvest, the weather, the water. All around him, vendors sold vegetables, milk, eggs, cookies, cut flowers, and seedlings. One farmer dropped off a bundle of radishes, saying, "That's all I have yet."
As the July day temperature climbed, another asked Torres to "Turn off the furnace." He asked how things were going, and she made a dismissive "Pfffttt." None of the beets or spinach germinated. It was too hot.
Torres' wife, Loretta, was the gardener, not George. She coaxed produce that tasted like small miracles from their backyard. But he helped her run the markets in Los Lunas starting in 2009 and in Bosque Farms since 2015. She had joined a master gardeners' group in Los Lunas, and thought the community would benefit from a growers' market. She drove to Santa Fe to meet with the New Mexico Farmers' Marketing Association, then organized a community meeting that drew about a hundred people to talk about launching a market, Torres recalled. In April of last year, she made a hanging flower basket for a Saturday market, then began feeling unwell. Torres took her to the hospital in Albuquerque. By Tuesday, she was gone.
"I've been maintaining the farmers' market because I promised her I would," Torres said of how he spends his Saturday mornings, his eyes wet.
Loretta didn't want farmers in a situation where they couldn't sell what they managed to grow amid low water years, hail damage, and insect infestations. She set up the farmers' market to support them, but also made sure the market supported the community.
A yellow banner at the front of Torres' table declared "Get your tokens here." Many of those who stop by carry either Supplemental Nutrition Assistance Program (SNAP) cards that double their dollars for fresh produce, through a program run by the marketing association, or vouchers from the FreshRx program, through which doctors "prescribe" produce from the market for people with diet-related illnesses.
The "Double up" program, with federal, state, and charitable contributions, tallied 6,000 families benefiting this year, while 600 patients were enrolled in FreshRx, a number expected to reach 1,000 next summer.
"And none of it works without water," Torres said.
The market would disappear if the irrigation ditches and groundwater wells farmers use ran dry because they would have no produce to sell. Last year, some feared that might happen. Irrigation water arrived late, and ran intermittently. The river dried farther north into Albuquerque than it had in decades. If the rain hadn't come, irrigation water wouldn't have, either.
Many farmers use groundwater wells, rather than surface water from the river, but the system intertwines. Surface water recharges groundwater, so straining the first diminishes the second. (Just ask Texas—which sued New Mexico in 2013 for farmers' groundwater wells draining the Rio Grande of water owed to lower Rio users.)
The Rio Grande is the fifth-longest river in North America and its basin is home for more than 10.4 million people. Streamflow scenarios through 2099 project a wide range of wet and dry conditions compared to average historic flows, which suggests an uncertain future for water. Overexploitation of water in the Southwest is moving the region toward severe water stress, with growing competition between municipal and agricultural users moving into view.
"Viability of agricultural production is in question over the long-term," Mike Hamman, state engineer, said at the 2022 Middle Rio Grande Water Advocates annual conference.
As in, whether or how much farmers will be able to continue to produce crops, from chile to pecans.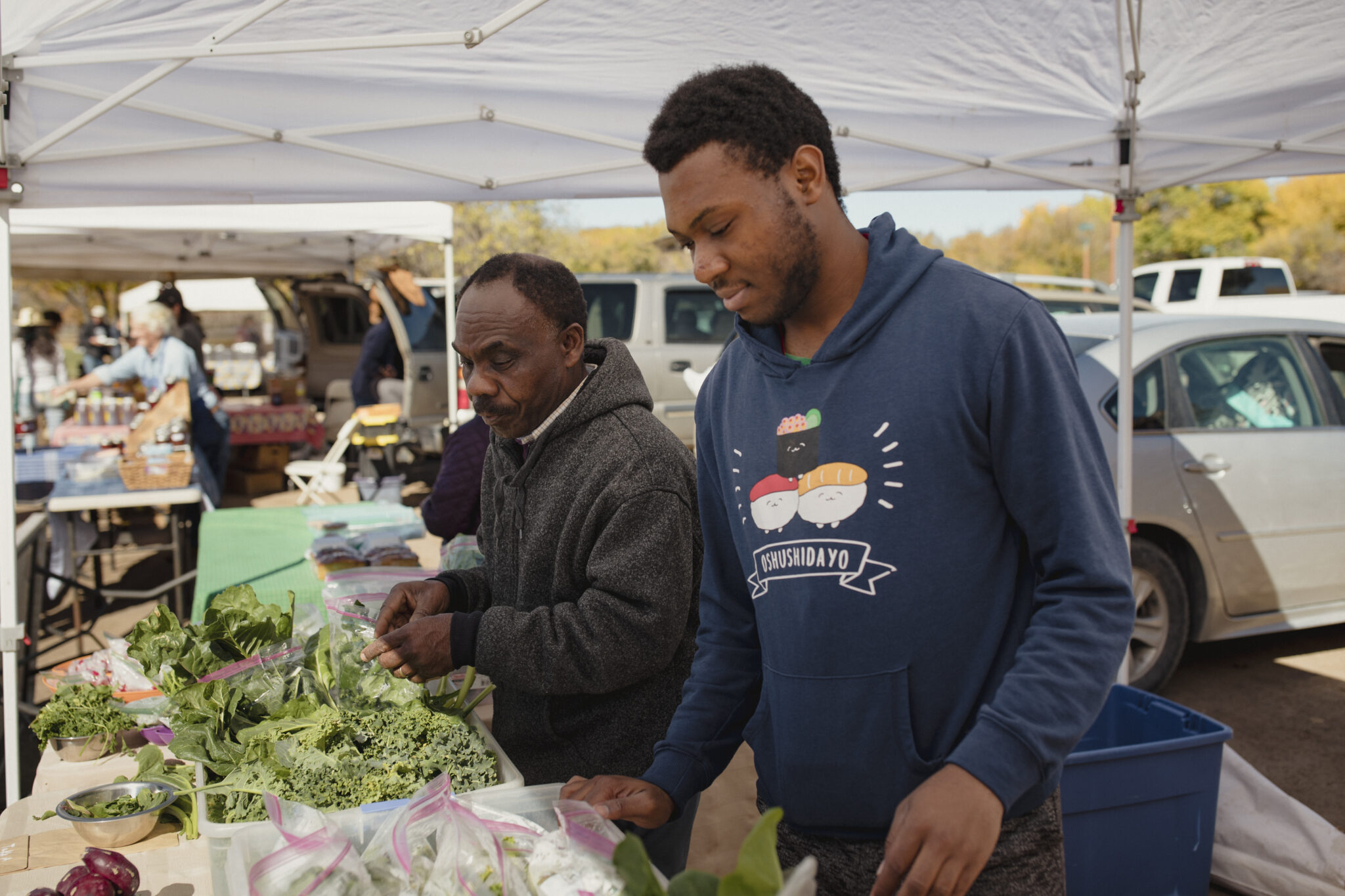 The Middle Rio Grande Conservancy District (MRGCD), which oversees delivery of water to farmers through a web of irrigation ditches between Cochiti and Elephant Butte dams, last year warned farmers to be ready for water to turn on at any hour of any day as their turn came up in line and to be prepared for it not to turn on at all for lengthy stretches. The uncertainty rocked an already tenuous business; farmers came to district meetings asking how they could plant chiles knowing they'd need water every three or four weeks and that water might not come.
The irrigation district has "turned into the evil wizard of Oz," said Bonnie Gonzales, who farms and manages the Corrales Growers' Market. She moved to Corrales in 1986 to raise a family, and wanted to grow her own food. Her garden still feeds her family, and now, she also grows flowers to sell on a farm that depends on groundwater wells she knows the river recharges. If that water stops coming, "Where do we go? … And at the end of the day, our food is at risk."
Gonzales doesn't just mean what she eats. She means food for the 4,500 customers who come by on busy Sundays to buy from a market that peaks with about 40 vendors in August. The market saw $800,000 in sales in 2021. She and Russell Trujillo, who owns Corrales Classic Farms and sells garlic, onions, tomatoes, chile, sweet potatoes, and carrots in the booth next to Gonzales', riffed off one another.
"The governor has no idea what's going on," Trujillo said.
"No amount of SNAP benefit is going to save these children if we don't have food or water," Gonzales said.
Anyone who doesn't know this river dries out, changes course, and generally does what it wants to do hasn't been paying attention, they both said.
"The river has run dry, I don't know how many times since I've been here," Trujillo said. He moved to the area in 1982, and has kept a garden, at least, since then. All five of his kids have worked at the farm and at the market, and now, he hopes his grandkids will too: Last spring, he started the youngest planting beans.
Last summer, an abundant monsoon eased a forecast for extensive drying. Still, Anne Marken, water operations division manager for the conservancy district, stood up meeting after meeting to tell the board that, without more rain, the river might just barely have enough water to meet the "prior and paramount" demands of the pueblos. In conclusion at a July meeting, she said, "I'll say, as usual, pray for rain."
That's familiar advice to Cecilia Rosacker, executive director of the Rio Grande Agricultural Land Trust, an organization founded at her kitchen table by fellow farmers, ecologists, and conservationists interested in protecting farms and riparian ecosystems. She's a New Mexico native who grew up on a farm, started the Socorro Farmers' Market, and now operates a 30-acre organic farm in Polvadera, most of it pasture for raising beef, plus a few acres in chile and mixed vegetables. She recalls decades of cautions that the snowpack wasn't good and that water would run out.
"I remember the old guys saying, you just keep your head down and keep doing what you're doing, and you pray for rain, and it almost always comes," Rosacker said. She's heard farmers asked if they consider not planting, given dire forecasts: "You can't sit it out, and you have all this invested in land and equipment and what would you do? … You have two choices if you don't keep farming: you sell the water rights or you sell the land. So you keep trying and trying and hoping and praying."
She struggled to decide what to do last year, she said, and considered joining a program that compensates farmers $425 per acre they don't plant. Farmers fallowed three times as many acres in 2022 compared to 2021. The Office of the State Engineer secured a special appropriation for $15 million to support that program.
She chose not to: "I live on my farm and I didn't want to be in the middle of brown dirt field, and I see how the wildlife benefits from me keeping it green." She'd also just invested $10,000 in her well, and so thought, "You might as well get in the game, roll your dice, and see what you got."
It's always been a gamble, but it feels like, with the drought, the odds are stacked against farmers. Before the monsoon rains came last year, running her well meant paying for diesel at more than $6 a gallon. What water came down the ditch arrived in "dribbles." One week, a field that's usually done in an hour took 10 hours to water.
"And the next day, the rain started, and I haven't watered since," she said in July. "That rain was a huge relief. But we also know that any water that's in the ditches right now, any water that we're getting is dependent solely on rain, and if the rain doesn't come, we're done. So farmers do a lot of praying."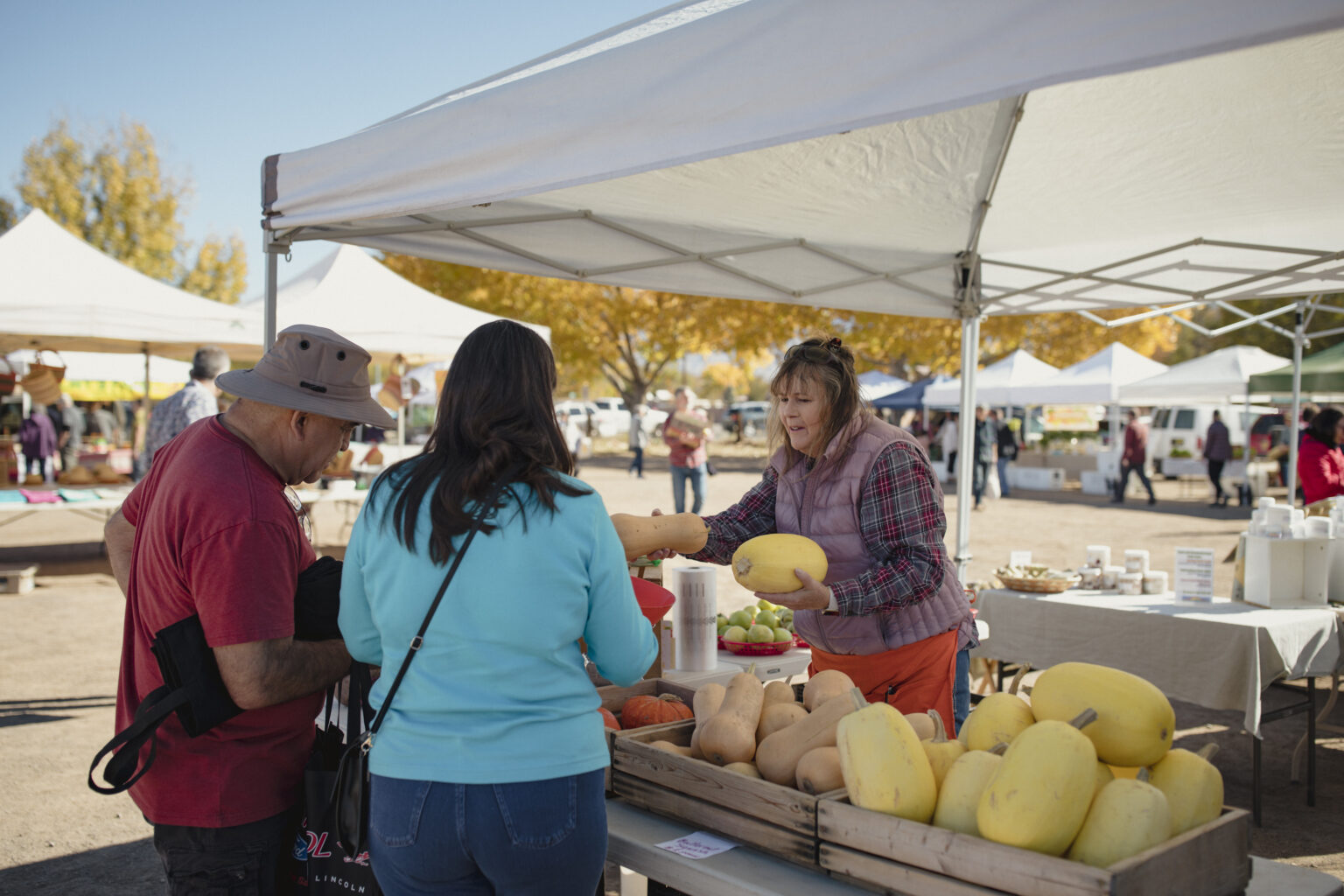 Farmers often take the brunt of the complaints about water use; irrigated agriculture accounts for 76% of water use in the state, including 1.2 million acre feet of surface water and 1.1 million acre feet of groundwater, according to 2015 numbers from the Office of the State Engineer. The next largest user group is the public water supply, which used 9% of total withdrawals, with 87,399 acre feet of surface water, and 196,758 acre feet of groundwater.
But those complaints discount the side benefits of irrigated land, like open, green spaces and wildlife, Rosacker said. Drip or sprinkler irrigation systems where water is more conservatively applied to crops might create green spaces, but flood irrigated land, where farmers open the gates and let water flow over fields, comes with unique benefits.
Hundreds of bird species migrate through the Middle Rio Grande, and they rely on riparian habitat along the Rio, including flood-irrigated agricultural lands that function like wetlands. When she wants to check on her watering, she doesn't search the fields, she just looks for the line of birds: "The ibis are right there, where the water is. And Audubon will tell you, if farms go away, we will lose birds. If flood irrigation goes away, we will lose birds." (It's true: Audubon staff do say that.)
More water-efficient systems like drip irrigation systems would cut off those wetlands.
The way water rights are allocated in the Southwest also discourages conservation, because using less water than your water right allows could see that right lowered for coming seasons.
"People get scared, they don't want to lose their water right, and so they'll plant something that's extremely inefficient," said Stephanie Russo Baca, a livestock grower who chairs the board for the Middle Rio Grande Conservancy District.
Getting around that would require legislation to revise the "use it or lose it" clause built into water rights.
There are other shifts farmers could make to conserve water.
They could use technology to help, like leveling fields so water moves more efficiently through them, and using soil sensors to determine actual soil moisture. But they might also change what they grow: some crops that are planted every year allow farmers the flexibility to skip a growing season and "fallow" the field, or let it rest and the water it would have consumed flow on to other uses in dry years. Others—like orchards—can't be.
Russo Baca raises rough stock, or bucking bulls, and when water drops, their fields produce less hay. One field that typically yields 100 bales recently put out just 35. It's easier on her back, she said, but tough on her pocketbook, as hay prices have increased. The result means she has to keep fewer livestock.
"You start butchering them because you can't afford to feed them," she said. "Which is sad in a way—you breed up these animals and you have these heifers and want to see how they turn out, but you can't feed them, so you end up eating them, and then you don't have that breeding stock."
The conservancy district doesn't dictate how people farm, "nor would we want to," Russo Baca said, and doesn't prioritize who gets water first, other than the water rights for pueblos. As long as the water is going to "beneficial use"—a crop, livestock, or instream flows for wildlife—then shortages are just shared among everyone.
"We can't determine if one crop is better than another," she said. "But is that something that needs to change?"
If it did, that would also require new legislation. And would almost certainly prompt revisiting some of the state's high-value crops, like pecans, which can require 200 gallons of water each day.
"Maybe you really should consider in the future, hey, let's plant a dryland crop that's going to do well here?" she said.
To Rosacker, it's time to step back and look at the bigger picture: "I think at some point the West is going to have to realize that we're past capacity."
---
This article was supported by The Water Desk, an independent journalism initiative based at the University of Colorado Boulder's Center for Environmental Journalism.
The Water Desk's mission is to increase the volume, depth and power of journalism connected to Western water issues. We're an initiative of the Center for Environmental Journalism at the University of Colorado Boulder. The Water Desk launched in April 2019 with support from the Walton Family Foundation. We maintain a strict editorial firewall between our funders and our journalism.