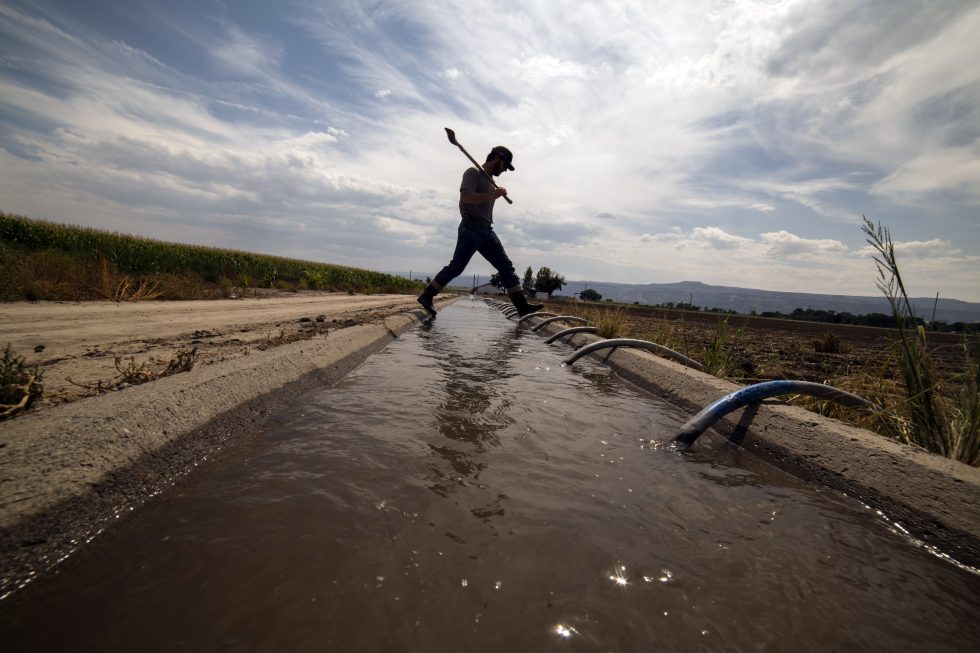 By Jerd Smith
To help restore the dwindling Colorado River, farmers and ranchers in Colorado have submitted 36 proposals which, if approved, will authorize them to temporarily stop irrigating their land this year in return for federal cash payments, allowing more water to stay in the river.
The effort is known as the System Conservation Pilot Program (SCPP) and is part of a broader initiative by Colorado and three other states to help stabilize the river system.
The Colorado River Basin includes seven states. Colorado, New Mexico, Utah and Wyoming comprise the Upper Basin, while Arizona, California and Nevada make up the Lower Basin. Efforts to cut agricultural water use are underway in the Lower Basin as well.
The Upper Colorado River Commission (UCRC), which is responsible for approving and implementing the pilot program, received 88 applications from growers in the four Upper Basin states, including the 36 from Colorado. How much water savings the pilot might generate across the four states is unclear. The UCRC did not respond to a request for comment. It is expected to make decisions on which applications will move forward next month. A special public meeting to address the SCPP is scheduled in Salt Lake City April 10.
If all of Colorado's applications are approved, 5,480 acres of land on Western Slope farms and ranches would be involved, resulting in more than 8,334 acre-feet of what's known as conserved consumptive use water being saved for the river, according to an initial analysis of the applications by the Colorado Water Conservation Board (CWCB). Typically, when water is applied to fields, a portion of that liquid returns to the stream and isn't used by the crop itself. The portion that is used by the crop is considered consumptive use. In most water rights transactions, it is only this consumptive use water that can be transferred or sold to another user. The applications included options to save water ranging from switching to less thirsty crops to partial-season irrigation to full-season fallowing.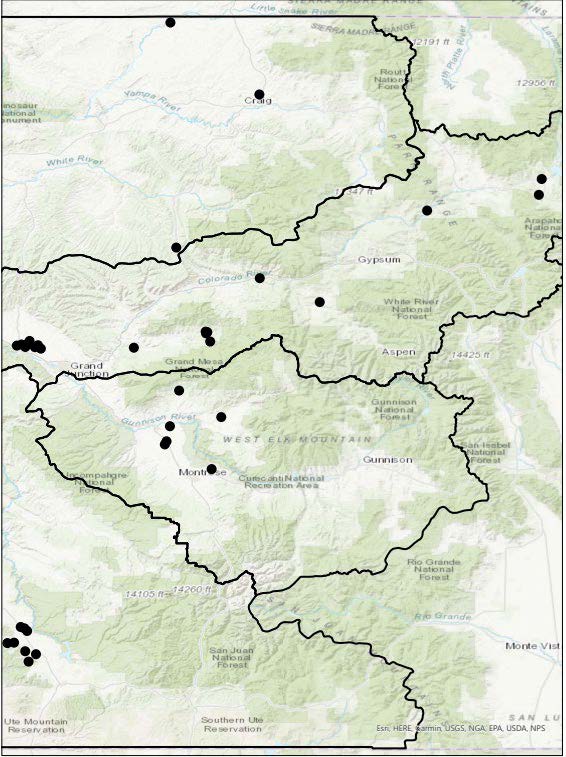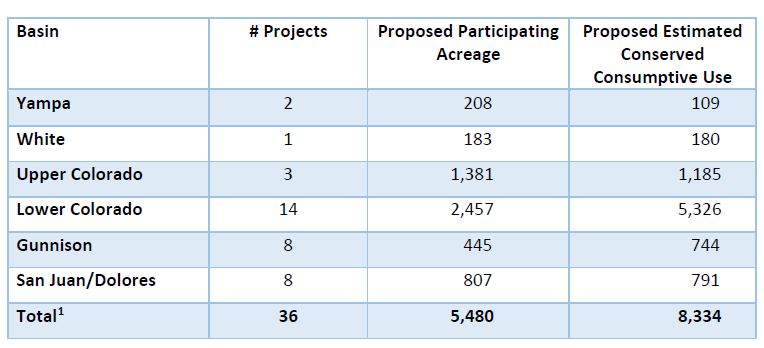 In January, the federal government and the UCRC, which represents Colorado, New Mexico, Utah and Wyoming, signed an agreement providing $125 million in federal funding over a three-year period to pay for the initiative.
Last week, the CWCB, the state's lead agency for water planning, designated the SCPP as an official conservation program under state law, meaning that growers who participate would not be penalized or see their water rights harmed.
The applications were made by agricultural producers in the Yampa, White, Colorado, Gunnison and San Juan/Dolores river basins, according to the CWCB. Each basin is a major tributary to the seven-state Colorado River system.
Reducing farm and ranch water is considered critical to helping stabilize the river because agriculture consumes about 80% of the river's supplies.
Each year millions of acre-feet of Colorado River water are used to grow crops across the basin. How much the pilot program might help reduce that amount has yet to be determined. The 8,334-plus acre-feet of water savings represented in the Colorado applications is remarkably little, and could indicate that growers are skeptical about the program, officials said.
"That the pilot program has attracted few applications is an indicator that the prices the UCRC is offering, $150 an acre-foot, are too low," said Jennifer Gimbel, a former principal deputy assistant secretary of water and science at the U.S. Department of the Interior who also served as a director of the Colorado Water Conservation Board.
Another issue, Gimbel said, is that the SCPP water will be left in the Colorado River to benefit the whole system, rather than being transported to Lake Powell, where it could be held for the benefit of the Upper Basin states.
"There is no protection for this [SCPP] water," Gimbel said. "It could go directly to the Lower Basin states. There might be [Upper Basin] farmers out there saying 'why bother?'"
Last summer, U.S. Bureau of Reclamation Commissioner Camille Touton ordered the Colorado River Basin states to come up with a consensus plan to cut water use by 2 million to 4 million acre-feet.
This Upper Basin pilot program is one effort to help do that, at least in the short term.
In Colorado, however, critics say the process has moved too fast to allow proper in-state review. And they say that the CWCB's and the UCRC's failure to make applications public, so that they can be reviewed by taxpayers and water districts who oversee those irrigation systems, raises questions about the program's transparency.
Steve Wolff manages the Durango-based Southwestern Water Conservation District, one of the districts which sought to review applications within its boundaries. Wolff said his district wants a chance to determine if other water users would be harmed by the federally funded fallowing program.
He said that CWCB Director Becky Mitchell, who also serves as the Colorado Commissioner on the UCRC, failed to honor a commitment made last year to allow the Southwestern district, along with the Glenwood Springs-based Colorado River District, to review the applications and approve them based on their criteria, not just the criteria of the Upper Colorado River Commission.
"It needed to be an open and transparent process," Wolff said. "Everybody should be allowed to see these. It's public money and that should allow a public review process."
Colorado River District General Manager Andy Mueller did not respond to a request for comment. But in a river district board meeting March 16, Mueller also said he was disappointed at the change in the review process.
"That was disturbing to us," Mueller said, "because it is a reversal from a commitment made by the commissioner last December."
Chris Arend, public information officer for the Colorado Department of Natural Resources and a spokesperson for Mitchell, declined to comment on that point, but said in an e-mailed statement that Mitchell and the CWCB would give the districts the same opportunity to comment on the applications as the CWCB was being given.
And Mitchell said at last week's CWCB meeting that she would work to have applications that have been redacted to protect private information released to the public eventually.
Gimbel said this SCPP will help show that agricultural water users can conserve water.
But she said the Upper Basin should move forward with what is known as a demand management program, something the states are working on that would free up water to fill a special 500,000 acre-foot drought pool in Lake Powell, where the water would be saved for the benefit of the Upper Basin states.
"To me this [SCPP] is a great first step," Gimbel said. "But it is going to cost more and require more political will" to craft a long-term agricultural water conservation program that will help stabilize the Colorado River and keep water in Lake Powell for the benefit of the Upper Basin states.
Jerd Smith is editor of Fresh Water News. She can be reached at 720-398-6474, via email at jerd@wateredco.org or @jerd_smith.
Fresh Water News is an independent, nonpartisan news initiative of Water Education Colorado. WEco is funded by multiple donors. Our editorial policy and donor list can be viewed at wateredco.org.
The Water Desk's mission is to increase the volume, depth and power of journalism connected to Western water issues. We're an initiative of the Center for Environmental Journalism at the University of Colorado Boulder. The Water Desk launched in April 2019 with support from the Walton Family Foundation. We maintain a strict editorial firewall between our funders and our journalism.