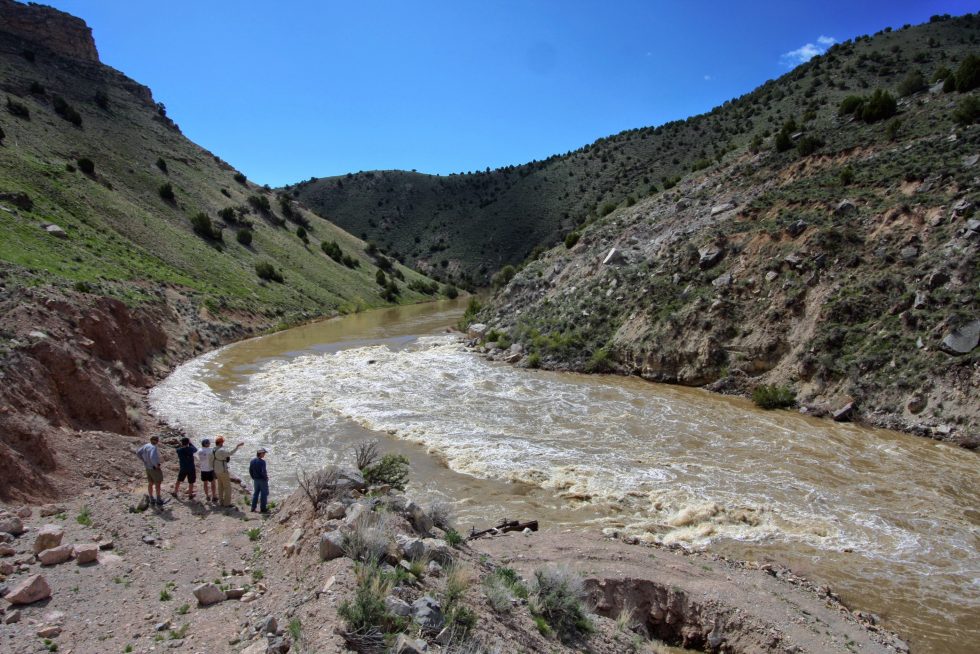 By Jerd Smith
After an attempt last year to secure funding for a green hydrogen pilot in the Yampa River Valley failed, state officials and Tri-State Generation and Transmission, among others, are taking another run at the idea, using a new program launched earlier this year by the U.S. Department of Energy.
In February, the U.S. Department of Energy announced it would make available $8 billion from the new bipartisan federal infrastructure funding package to create hydrogen hubs across the country. In March, Colorado New Mexico, Utah and Wyoming formed a partnership to compete for the financing, a process that is likely to take months, if not years, to complete.
According to the Colorado Energy Office, the idea would be to create multiple sites in each state, in part to boost each state's chance of winning some of the funding to build the hydrogen plants and to use each state's unique natural assets to test different scenarios, such as whether to use hydropower or solar, and which storage and transmission systems could work best.
The Yampa River Valley's coal-fired power plant at Craig, which is operated and partially owned by Tri-State, will be decommissioned beginning in 2025, with the process set to be completed in 2030. The plant once employed more than 300 people, but is now down to roughly 100 employees, according to Tri-State's spokesman Mark Stutz.
Last year, Tri-State, Xcel and the State of Colorado applied for a federal grant to begin a feasibility study on producing green hydrogen, a process that could use hydropower, solar energy or wind to create the electricity needed to split water atoms into hydrogen and oxygen. The oxygen can be emitted without increasing greenhouse gases, while the hydrogen can be stored and used to create electricity.
But Colorado's proposal was rejected. Now, with an eye on helping the Yampa River Valley protect its water and its economy from the loss of coal jobs, the utilities, the state, Yampa Valley economic development agencies, and Colorado State University are looking at other routes to a green energy transition.
"We're listening to every and all options," Stutz said. "We will be a small player in this. But we have a site, and we believe Craig is a good location because of the transmission, water and site availability."
There is also some interest in building a small nuclear facility at the site, because the hydrogen technology has yet to be perfected and costs remain high, Stutz said.
Still, hydrogen has been described as the missing link in the transition away from fossil fuels. It can be produced in several ways. Green hydrogen, the subject of the proposal at Craig, is made from water using electrolysis. The oxygen separated out of the H2O can be vented, leaving the hydrogen, a fluid that can be stored in tanks or, as is in a demonstration project in Utah, in salt caverns. The hydrogen can then be tapped later as a fuel source to produce electricity or, for that matter, put into pipelines for distribution to fueling stations.
How much water would be needed to produce green hydrogen isn't clear. But the Yampa Valley's existing coal-fired plants have strong water portfolios that could be used.
Craig Station, in 2022, is projected to use 7,394 acre-feet of water, according to a Tri-State filing with the Colorado Public Utilities Commission. By 2029, the last year of coal generation at Craig, Tri-State projects water use will decline to 4,270 acre-feet.
With drought depleting streamflows across Colorado and the West, the Yampa River is being watched closely, in part because it is a major tributary to the Colorado River.
Environmental groups have long hoped that either the state or environmental coalitions could purchase the water rights from the utilities in order to keep more water in the river and improve its health. But because hydrogen production would likely use less water than coal production, there could still be an environmental benefit in the conversion of the plants to hydrogen production, according to Jennifer Holloway, executive director of the Craig Chamber of Commerce who also serves on the Yampa/White/Green River Basin Roundtable.
"There are a lot of scientists who think it is a great opportunity for our area to use the hydrogen to repurpose our infrastructure. We have a lot of skilled workers that could easily be shifted into a hydrogen production scenario," Holloway said.
But she said she would like to see as much water as possible left in the river.
"My concern with hydrogen is are they going to take too much? Everything they've told me is that the hydrogen would use less water. If that is indeed the fact, that is good news," she said.
Jerd Smith is editor of Fresh Water News. She can be reached at 720-398-6474, via email at jerd@wateredco.org or @jerd_smith.
Fresh Water News is an independent, nonpartisan news initiative of Water Education Colorado. WEco is funded by multiple donors. Our editorial policy and donor list can be viewed at wateredco.org
The Water Desk's mission is to increase the volume, depth and power of journalism connected to Western water issues. We're an initiative of the Center for Environmental Journalism at the University of Colorado Boulder. The Water Desk launched in April 2019 with support from the Walton Family Foundation. We maintain a strict editorial firewall between our funders and our journalism.