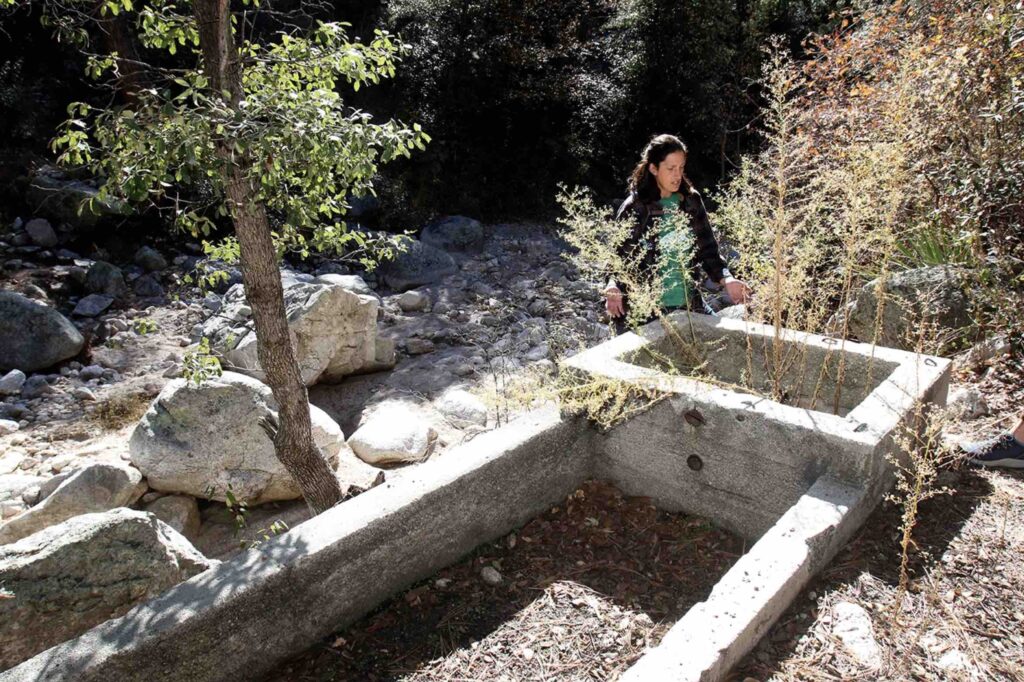 By Johanna Willett, Arizona Luminaria
This story was supported by The Water Desk, an independent, nonprofit journalism initiative based at the University of Colorado Boulder's Center for Environmental Journalism.
As Sarah Truebe scrambles up a dry stream-bed on Mount Lemmon, she points out a single willow tree, leaves golden with autumn's arrival.
Rooted in the empty stream-bed, it hints of treasure ahead — the presence of water.
Soon enough, oaks and alders crowd the banks and grasses abound. And then, the sound.
Water trickles from a broken pipe, forming a pool about six inches deep. Nearby a concrete square — a spring box used to collect water — marks the spot. This is sometimes called Horse Camp Spring, not far from the General Hitchcock Campgroundabout 6,000 feet above Tucson.
Truebe is the habitat conservation manager for Sky Island Alliance. She trains volunteers to pay attention to all of this data — the foliage, the water depth, the signs of human development — and record it via a smartphone questionnaire.
This is all part of Spring Seeker, a program by the conservation nonprofit Sky Island Alliance to train volunteers to find and monitor the thousands of springs scattered across the landscape inSouthern Arizona and northern México. It's hiking with a purpose.
In Southern Arizona's sky islands — forested mountains that loom above desert and grassland — Truebe estimates that there are as many as 4,000 springs. Since starting the Spring Seeker program the summer of 2020, about 870 springs have been surveyed.
And in a state where every water source matters, a comprehensive database of springs means a better way to understand and protect these tiny outposts of life.
A surprising number of springs
At Horse Camp Spring, the water seems to just appear, its presence transforming the landscape until it disappears again.And that's what a spring is — a point where underground water emerges at the surface.
"Water will follow the path of least resistance," Truebe says. "So when groundwater is moving under the surface of a mountain or stream channel, it will pop up at the surface when it hits an obstacle."
For a state known for its water scarcity, Arizona has a surprising number of springs.
Larry Stevens is the director of the Flagstaff-based Springs Stewardship Institute, an initiative out of the Museum of Northern Arizona. Stevens estimates that Arizona has at least 11,000 springs, spread out across northern and southeastern Arizona.
Sky Island Alliance contributes its springs data to the Springs Stewardship Institute's larger database.
"In this arid state, springs play an incredible role in the biodiversity of the state," Stevens says. "Many unique species are tied closely to springs."
Arizona Game and Fish Department public information officer Mark Hart points to the importance of springs in the Huachuca Mountains. It's bear country there, and an area where agencies such as Game and Fish and the U.S. Fish and Wildlife Service reintroduced the native but endangered Gila topminnow to the region.
"It's good wildlife habitat for creatures great and small because of the springs," Hart says.
Truebe adds that unlike streams that may flow only after a monsoon or with snowmelt, springs more often persist year-round, providing a valuable water source for migrating wildlife.
Springs also provide water for human use, supplying drinking water for cattle and communities both. For Indigenous communities, too, springs often hold historic, cultural and even sacred significance.
In 2020, the Tohono O'odham Nation listed Quitobaquito Springs in Organ Pipe Cactus National Monument as one of the culturally significant sites threatened by the construction of a border wall. National Geographic reported on the impact to the spring and connected pool that caused fierce concern among O'odham communities. Quitobaquito is the historic home of the Hia-C-ed O'odham people (and is outside of the sky islands).
Truebe says that most of the springs she has visited display some sign of human development. In fact, evidence of human use, whether past or present, is often one of the first signs that you're approaching water. Indeed, on the trek to Horse Camp Spring, rusted piping and an old cattle trough announced the presence of water long before changes in plant life became obvious.
At the Grand Canyon, springs create oases for wildlife, provide water for the Havasupai Tribe and supply the water resources used in Grand Canyon National Park, says Cerissa Hoglander, the climate resilience director at Grand Canyon Trust. The northern Arizona nonprofit advocates for the conservation of the canyon, among the seven natural wonders of the world, and the Colorado Plateau.
"Water is life in the Grand Canyon, and Grand Canyon springs are these incredibly important systems," Hoglander says. "Even if they are small, they, for the most part, have this disproportionate impact across the wider landscape."
Julie Mueller is the lead project director for a U.S. Department of Agriculture grant project attempting to determine the value of a spring in northern Arizona forests. By surveying adults across the United States and receiving input from key stakeholders, Mueller and her team are assessing the land management scenarios that are most important to people.
For example, one person "might prioritize grazing, and another might prioritize the preservation of springs with cultural significance to Indigenous nations," says Mueller, who is also the chief economic advisor to Northern Arizona University's president. Each management scenario has an associated cost, allowing Mueller and her team to help land managers better understand what the public values most.
"Whatever price we see traded in the market for water doesn't come close to showing us its value to the state of Arizona or the U.S." Mueller says. "This is to help inform policies that incorporate that broader value."
Although every spring is different, springs can also be valuable for the glimpse they may offer into groundwater levels below the earth.
"Springs are good indicators of aquifer health, to a certain point…" Stevens says. "If you see a spring dry up and disappear, then the groundwater table has retracted. There may still be groundwater down there, but you have lost the easiest way to keep track of it."
How spring seeking is like treasure hunting
Sky Island Alliance's Spring Seeker initiative grew out of its earlier Adopt-A-Spring program. Instead of sending volunteers to as many springs as possible, Adopt-A-Spring put community scientists through extensive training, dispatching them to regularly monitor "adopted" springs, Truebe says.
The newer Spring Seeker program is as user-friendly as possible, sending volunteers to sky island locations where a spring is suspected. Not every potential site results in the discovery of water. So far, the program has attracted about 60 people who have walked through a self-guided survey on a smart phone, answering questions and snapping photos.
Truebe says they determine potential spring locations from a variety of sources — U.S. Geological Survey's National Hydrography Dataset, water rights documents digitized by the Arizona Department of Water Resources, U.S. Forest Service maps and even anecdotal reports from property owners.
"It can feel like treasure hunting," Truebe says. "Especially when you get out there and it did come off of a historic map."
Sometimes, Truebe will look up the coordinates on Google Earth. If the landscape looks green — especially with dates outside of monsoon season — the chances of finding a spring are good.
"Some of these sites haven't been visited since a rancher in 1920 put up a trough for his cattle," she says. "It's really cool, and it's bonkers when you get out there and you've been bushwhacking for 10 hours, and there is a tank, and you think, 'How did this get here?'"
Paula Redinger has been a Spring Seeker volunteer for about two years. A Tucson resident, she has filed around 25 reports, she says.
"Most of the spring seeking I do is close to trails," she says. "Different spring seekers enjoy different aspects, which is another neat thing about the program. I enjoy hiking long distances … so I typically pick springs that might be a long hike but not that far off the trail. And I pick things that are OK to do alone."
During the 2020 Bighorn Fire in the Catalina Mountains, Redinger did a lot of spring seeking in the Huachuca Mountains.
"I did not know the Huachucas at all, and holy cow, they are just gorgeous," she says. "There are magical oak forests in the Huachucas that are just amazing. I would not have seen those had it not been for a combination of spring seeking and the Bighorn Fire."
But not every spring seeking adventure is magical. Sometimes, a long hike ends with no evidence of water, or it's delayed by a rattlesnake or thunderstorm.
And then there was the time Redinger sacrificed a pair of boots for the cause.
"I won a certificate for having the most clothing destroyed while spring seeking…" she says, laughing. "I was halfway through doing a spring down Butterfly Trail on Mount Lemmon, and there was some wandering. I just caught the boot on something … and the whole sole was flapping all the way up to the spring. It wasn't very glamorous."
A week later, she returned to the spring for some additional information, the sole of her boot glued shut for the journey.
Location is the first step toward protection
Truebe says that — unfortunately — one of the best times to go spring seeking in Southern Arizona is in June. That's because if there's water, you know it's not from rainfall or snowmelt. You've likely found a spring.
If June is unbearable, the autumn months after the monsoon and before the winter rains work, too. And really, Sky Island Alliance is interested in learning about the characteristics of springs during every season.
"A core challenge with springs is the fact that they have been poorly mapped around the world, not just in Arizona," Stevens says.
This is partially because some springs are remote and can take days to access.
"And once you get there, you have no idea what will be there…" Stevens says. "I was monitoring a spring in northern Arizona and leaning over and taking very careful water quality measurements. And then I look up and 20 feet away is a large black bear looking at me … It's not unusual to have signs of big predators at springs."
Sky Island Alliance has a variety of video and print resources to help people think through safety considerations and prepare for a spring seeking experience. If you'd rather not explore alone, there are also opportunities to sign up for a buddy or wait for a spring-seeking field trip. Truebe last organized a group outing in July.
The Spring Seeker safety document also emphasizes the importance of knowing land ownership and securing proper permitting before making any plans to visit a spring.
"You should only enter private lands if you know the owner and they give you explicit permission to record spring data on their land," the document states. "Similarly, do not enter or record data on tribal lands unless you are a member of the tribe or have explicit permission to do so."
Despite their value to ecosystems and communities, springs are not as protected as you might think, in part because they are both surface water and groundwater and because they may not connect to an established waterway, Truebe says.
Drought, mining and overpumping groundwater are just a few threats that springs face.
Most springs don't receive federal protection because they do not qualify as Waters of the United States, a definition that is once again before the U.S. Supreme Court.
Currently, "to qualify as Waters of the United States and under the jurisdiction of the Environmental Protection Agency, water has to be navigable…." Stevens says. "Springs are often not connected to waterways, therefore many of them don't qualify as objects of interest to the federal government through that."
The Arizona Surface Water Protection Program does go beyond WOTUS to safeguard additional state waters with a "significant nexus" to other waters. But "isolated sites," such as some springs, remain largely unlisted, Truebe says.
Locating springs is the first step toward protection.
"This is changing, but often springs are not specifically called out as ecosystems that should be protected because they cover such a small area, even though they have disproportionate benefits to the landscape," says Hoglander with the Grand Canyon Trust.
She points to the Four Forest Restoration Initiative in northern Arizona as an example of change. This widespread project with the Forest Service and other stakeholders seeks to "restore fire-adapted ecosystems," according to the initiative's website.
"In the Four Forest Restoration, management plans are specifically calling out springs and streams as important habitats," Hoglander says.
More people on the ground
After the Bighorn Fire blazed across the Santa Catalina Mountains, Coronado National Forest enlisted Sky Island Alliance to scout the fire's impact on spring conditions.
"We now have an agreement in place with them to do erosion control … so those springs are not filled with sediment … and the vegetation around them can come back more readily," says Jennifer Varin, the watershed program manager for Coronado National Forest. "Because they went out there and did those assessments, now we can do this agreement to protect springs that are at risk."
The Spring Seeker program also helps the Forest Service care for the springs in Coronado National Forest by sharing data that would otherwise be difficult to collect.
"It's more people on the ground taking a look at conditions out there. We just don't have the staff to do it alone," Varin says.
Stevens with the Springs Stewardship Institute says that it's actually quite difficult to predict where springs might appear. That's why updating and maintaining maps is so important. Data collected through programs such as Spring Seekers then helps Sky Island Alliance determine which springs may need additional protection or restoration.
Sometimes that means working with ranchers and landowners to protect springs from trampling by cattle. It may mean removing invasive species, such as buffelgrass, or picking up trash in the area.
"We don't expect springs not to be used by people, but we want to see more balance between people paying attention to the ecological importance of springs and getting what they want out of them," Stevens says.
Springs ultimately contribute to the state's water supply, he stresses, whether by flowing into the Colorado River or by sinking back into the ground where it replenishes aquifers.
'A different conservation story'
In Arizona, finding water in the wilderness means discovering a source of life.
"This is a different conservation story," Stevens says. "This is not like saving the Mississippi River, the Pacific Ocean or African elephants. What we are trying to do is pay attention to small patches in the landscape that are biologically and culturally rich and socioeconomically important."
Horse Camp Spring on Mount Lemmon is one of these — a spot that Truebe has visited a few times, often with new volunteers. With its clear riparian habitat and evidence of human use, it showcases what to look for when hunting for water in the desert.
Redinger, the volunteer with Sky Island Alliance, is a Pima Master Naturalist and a professional flutist. Spring seeking has given her a way to explore new places and hike all while contributing to a larger goal.
"There are springs for everyone," she says. "Springs that are short hikes and long hikes, that are bushwhacking and driving. There is one out there for you."
For more information about the Spring Seeker program and Sky Island Alliance, visit skyislandalliance.org. 
This article first appeared on AZ Luminaria and is republished here under a Creative Commons license.
The Water Desk's mission is to increase the volume, depth and power of journalism connected to Western water issues. We're an initiative of the Center for Environmental Journalism at the University of Colorado Boulder. The Water Desk launched in April 2019 with support from the Walton Family Foundation. We maintain a strict editorial firewall between our funders and our journalism.