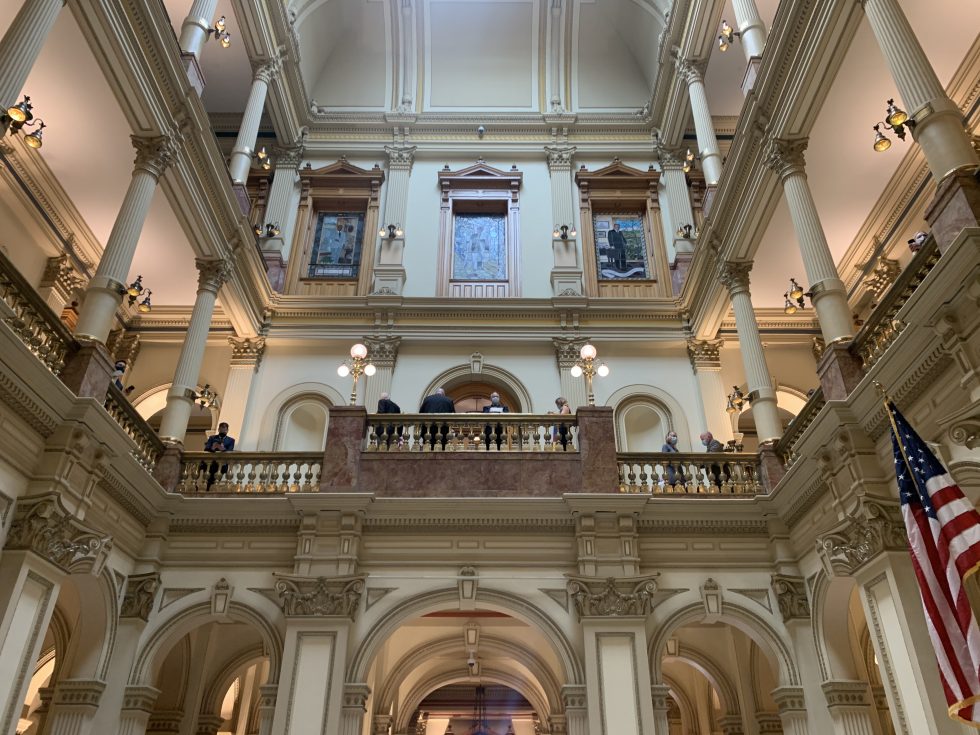 Colorado lawmakers approved four new bills this session designed to funnel millions in Covid-related relief funds to help finance the Colorado Water Plan, protect watersheds, mitigate wildfires and recover from drought.
Funding Colorado's Water Plan
The General Assembly cut $3.5 billion from the state's budget last year, anticipating major revenue shortfalls caused by Covid-19. But tax receipts bounced back quicker than anticipated, improving revenue forecasts for the state's Fiscal Year 2022, which begins July 1. This allowed lawmakers to set aside $800 million in a stimulus package for use in the year ahead.
One of the bills benefitting from this jolt is House Bill 1260, which transfers $15 million in state general funds to the Water Plan Implementation Cash Fund to be spent by the Colorado Water Conservation Board on grants to help meet the plan's goals. The bill was sponsored by House Speaker Alec Garnett, D-Denver, and Rep. Marc Catlin, R-Montrose.
It also moves $5 million into CWCB's Water Supply Reserve Fund for the state's basin roundtables. Garnett noted that "this is the biggest investment from the general fund we've ever made in Colorado's Water Plan" and said that it will help move the state toward meeting the annual commitment necessary to avoid future water shortfalls. Catlin echoed that sentiment, emphasizing the bill "will allow the state to speed up so more projects are looked at and more [river basin] roundtables can do the work that they were statutorily given."
While pleased with the improved fiscal outlook and supportive of funding water projects, Sen. Bob Rankin, R-Carbondale, a member of the Joint Budget Committee, cautioned, "The one thing to keep in mind with HB 1260 and other bills like it is that they are one-time funding. What comes next, what's our long-term plan? We should have sustainable programs."
Watershed protection and wildfire mitigation
Senate Bill 240, sponsored by Sen. Jessie Danielson, D-Wheat Ridge, and Sen. Cleave Simpson, R-Alamosa, also takes advantage of stimulus money and transfers $30 million in general fund revenue to the CWCB Construction Fund for grants to restore, mitigate and protect watersheds from wildfire-induced erosion and flooding.
House Bill 1008, sponsored by former Rep. Jeni Arndt, D-Fort Collins, and Rep. Catlin, also helps fund watershed protection efforts by authorizing local governments to band together and form special improvement districts empowered to levy property taxes for wildfire mitigation and forest health projects. It also makes those districts eligible for $50 million from a Colorado Water Resources and Power Development Authority bond program and expands the program's life another 10 years through 2033.
Drought resiliency
Senate Bill 234 creates the Agriculture and Drought Resiliency Fund in the Colorado Department of Agriculture to help the state prepare for and respond to drought. Sponsored by Sen. Sonya Jaquez Lewis, D-Lafayette, and Sen. Jerry Sonnenberg, R-Sterling, it transfers $3 million in general fund revenue to the new fund to support agricultural water projects and recovery of grazing lands affected by wildfires.
What's next?
In addition to looking at more sustainable funding options for Colorado's Water Plan, the 2021 interim legislative Water Resources Review Committee is likely to study anti-speculation laws and demand management. The committee will receive recommendations from a work group convened by the Department of Natural Resources exploring ways to strengthen anti-speculation laws.
In calling for the DNR study, Sen. Kerry Donovan, D-Vail, chair of the Senate Agriculture and Natural Resources Committee, said, "We want to make sure that water is put to beneficial use and not used by out-of-state entities trying to make a quick buck on our impending drought situation."
Demand management, which would involve temporary, voluntary and compensated reductions in consumptive use to bank water in Lake Powell as a hedge against future shortfalls on the Colorado River, is being assessed by CWCB as one option to ensure that Colorado and the three other upper basin states comply with Colorado River Compact delivery obligations.
Larry Morandi was formerly director of State Policy Research with the National Conference of State Legislatures in Denver, and is a frequent contributor to Fresh Water News. He can be reached at larrymorandi@comcast.net.
Fresh Water News is an independent, nonpartisan news initiative of Water Education Colorado. WEco is funded by multiple donors. Our editorial policy and donor list can be viewed at wateredco.org.
The Water Desk's mission is to increase the volume, depth and power of journalism connected to Western water issues. We're an initiative of the Center for Environmental Journalism at the University of Colorado Boulder. The Water Desk launched in April 2019 with support from the Walton Family Foundation. We maintain a strict editorial firewall between our funders and our journalism.