By Sarah Kuta
With drought and climate change continuing to dry the American West, the state of Colorado is moving to declare one of its last, mostly free-flowing rivers, the Yampa, over-appropriated.
The action, initiated in March, is emblematic of the water situation across Colorado and the West: growing demand, shrinking supplies.
"It's a sign of the times, that is, it's happening in the context of lower flows and increased demand — and we're seeing that all over the West," said Anne Castle, senior fellow at the Getches-Wilkinson Center for Natural Resources, Energy, and the Environment at the University of Colorado Law School. "The majority of the problem in the Yampa is created by a decrease in flows, although there has been some increase in demand."
According to a recent analysis by the state, the Yampa's flows have dropped roughly 25 percent over the past 100 years, from 1.5 million acre-feet to 1.12 million acre-feet annually, a change attributed to sustained drought and climate change.
"The combination of continued adjudication of new water rights and the potential for a hotter, drier climate will likely cause the trend of declining streamflows to continue," wrote Erin Light, the top water regulator in the region, in her report detailing why she's recommending the over-appropriation designation.
The river is important not just because of its key role in Northwestern Colorado, but also because it is one of the largest tributaries to the drought-stressed seven-state Colorado River system.
Kevin Rein, the state engineer and Colorado Division of Water Resources director, is still considering Light's March 17 recommendation, which encompasses the Yampa River and all of its tributaries upstream of its confluence with the Little Snake River to the town of Steamboat Springs. If approved, the designation will affect 2,321 total square miles, which includes 148 miles of the Yampa itself.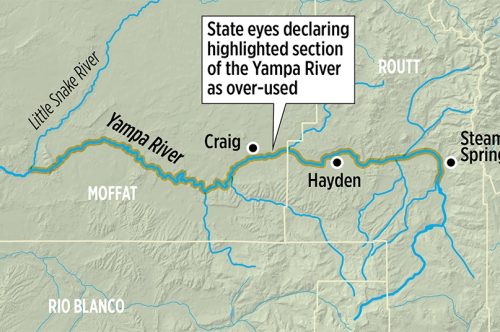 At a virtual meeting in March, some Yampa-area stakeholders expressed concerns about the quick pace of the process and the lack of in-person conversations. They also asked for more information and more time to understand the implications and potential ripple effects of the designation.
Before he makes his decision, Rein said he wants to be able to meet in person with the basin's residents, something the COVID-19 pandemic has so far prevented. He said he did not yet have an anticipated timeline.
"I'm not confident that people understand some of the nuances, and so I want people to be believers in why we're doing this," Rein said. "I want to be out there meeting with people in person, answering all the hard questions before we make a decision that sets things in motion."
Over-appropriation, explained
The state uses the over-appropriation designation when it has determined that there's not enough water in a stream system, some or all of the time, for all of the people and organizations who hold water rights in the system.
Over-appropriation is the norm in Colorado — other portions of the Yampa system are already designated as over-appropriated, as are the majority of other stream systems in the state.
Still, the recommendation to designate this new section of the basin as over-appropriated is a major change to the status quo in this region, where water has historically been so abundant and demand so low that a majority of water users never measured what they took from the stream.
To more accurately glean the full water picture in the Yampa Basin, the state ordered water users there to install measuring devices in September 2019. Though installation was initially slow-going, the state and several local community groups have been working with water users in the intervening months, which has brought the proportion of water users with measuring devices up to 58 percent as of April 2021, according to state officials.
"It's normal for people to want to be able to continue the water use they've enjoyed in the past, but the hydrology is changing," Castle said. "The overall balance of the system is different and that means that the way we do business in terms of administering water has to change as well. It's quite understandable that people may not be welcoming this kind of additional state regulatory overlay that they are used to doing without."
For divvying up the state's water, Colorado uses a "first in time, first in right" system known as prior appropriation. This means that the people or organizations with the oldest decreed water rights, known as senior water rights, get priority over later-decreed, or junior, water rights.
When there isn't enough water to satisfy those senior water rights, the state can stop or slow the flow for junior water rights, a measure known as a call or a curtailment.
This temporary action, taken to ensure that senior water rights holders can get all of the water they're legally entitled to, is becoming more and more common in the Yampa River Basin. State officials have implemented calls in two of the last three years — in 2018 and 2020.
There would likely have been additional calls in the basin, but the community avoided them by sharing water, getting by with less, and releasing stored water from reservoirs into the river and allowing it to remain there rather than diverting it for irrigation or drinking water, according to Light.
"We have many stream systems where water rights are not fully met but owners opt to not request our office to place a call," Light wrote in her recommendation. "While their cooperative approach to 'make do' with water they have and/or share it among their neighbors is admirable, it is yet one more indicator that, more and more frequently, the water supply of the Yampa River Basin cannot support the … demand."
Groundwater vs. surface water
The overarching goal of the over-appropriation designation is to protect the rights of senior water rights holders moving forward, Light said.
If the designation is applied, people will still be able to obtain new surface water rights, for instance to take water from streams and rivers for approved uses like irrigation, but they should be aware that there may not be enough water available to satisfy those rights, Light said.
The over-appropriation designation would also affect groundwater rights, or water pumped up from below ground. More specifically, the designation will affect residents' ability to drill new wells and bring into compliance existing wells with unpermitted uses.
Under the designation, landowners who want permission to drill a new well would need to meet stricter criteria and might need to be prepared to replenish that well water to the river, a process known as augmentation.
The reason for the distinction between surface and groundwater? Groundwater diversions like wells have a delayed impact on rivers and streams, whereas surface water diversions like ditches have a more immediate impact.
When water is in short supply, state officials can simply stop the flow to junior ditches to ensure there's enough water for senior water rights holders. They can't do that as easily with wells, which is where plans for augmentation come into play.
For some landowners in the proposed over-appropriation region, creating an augmentation plan will be a difficult process, one requiring lawyers, court filings and engineers. For others, it will be as simple as reaching out to a nearby reservoir manager and paying for stored water to meet the augmentation needs.
The Upper Yampa Water Conservancy District, for example, has a blanket augmentation plan that covers some of the proposed over-appropriation area. Landowners within the plan's boundaries can apply to the district for augmentation water, which costs from $212.54 to $248 per acre-foot, according to district spokesperson Holly Kirkpatrick.
Meanwhile, augmentation is less straightforward for water users who live outside of those bounds.
"The community really has a choice of whether to continue with the status quo where people have to have their individual augmentation plans … or come together and implement some sort of blanket augmentation plan to remove that barrier to water development," said Hunter Causey, senior water resources engineer for the Colorado River District, during the 2021 Yampa Valley State of the River meeting in May.
Sarah Kuta is a freelance writer based in Longmont, Colorado. She can be reached at sarahkuta@gmail.com.
Fresh Water News is an independent, nonpartisan news initiative of Water Education Colorado. WEco is funded by multiple donors. Our editorial policy and donor list can be viewed at wateredco.org.
The Water Desk's mission is to increase the volume, depth and power of journalism connected to Western water issues. We're an initiative of the Center for Environmental Journalism at the University of Colorado Boulder. The Water Desk launched in April 2019 with support from the Walton Family Foundation. We maintain a strict editorial firewall between our funders and our journalism.