Climate change and unregulated wells are depleting the West's groundwater reserves.
By Jonathan Thompson, High Country News
Arizona is sinking. The combination of groundwater pumping and warmer temperatures is shrinking aquifers and lowering water tables. And as the land subsides, fissures open, 2-mile wounds that devour infrastructure and swallow livestock. Four of Arizona's five economic pillars — cattle, cotton, citrus and copper — use huge amounts of water, while the fifth, the state's climate, is changing, making water scarcer. Development and growth are intensifying the problem, despite relief from state laws and the existence of the Central Arizona Project, which began delivering Colorado River water to Phoenix and Tucson in the 1980s.
Today, where subsidence is worst, groundwater pumping isn't even monitored, and big agricultural and anti-regulatory ideologues try to stymie any efforts to keep tabs on how much water is being pumped. Big corporate farms are sprouting in areas without CAP water and virtually no regulation on groundwater pumping. More and more farms produce alfalfa, one of the thirstiest crops on Earth; the number of acres in hay production more than doubled between 1987 and 2017, and tonnage nearly tripled. Meanwhile, Arizona is getting even hotter.
That kind of heat, according to a recent study published in Nature Communications, strains groundwater reserves, too. The study "Evapotranspiration depletes groundwater under warming over the contiguous United States" found that warming also stresses plants, forcing them to suck up more groundwater and further lowering water tables. "These changes show that even the most moderate warming projection can shift groundwater surface water exchanges and lead to substantial and persistent storage losses," the study notes, adding that with just 1.5 Celsius (2.7 Fahrenheit) warming, the nation's groundwater reservoirs collectively will lose about four times the total volume of Lake Powell over four years.
"Humans are short-circuiting the natural system."
Warming stresses plants in the same way in the arid West, Laura Condon, an assistant professor of hydrology at the University of Arizona and one of the study's authors, said. Since the water tables here are deeper, however, the effect on groundwater is less pronounced — at least under natural conditions. But when crops are stressed by warming, more groundwater pumping is needed. "Humans are short-circuiting the natural system," Condon said.
In other words, Arizona is sinking, getting hotter and getting thirstier. Groundwater pumping is increasing, water tables are plummeting, and many rural residents are watching their wells go dry, according to a recent investigation by Rob O'Dell and Ian James for the Arizona Republic. Not long ago, the football field at western Arizona's Salome High School was reduced to dust thanks to water restrictions at the groundwater-dependent town, which has a number of large corporate alfalfa farms nearby.
What does all this look like on the ground? The graphic shows one farming area and its subsidence zone, southwest of Salome.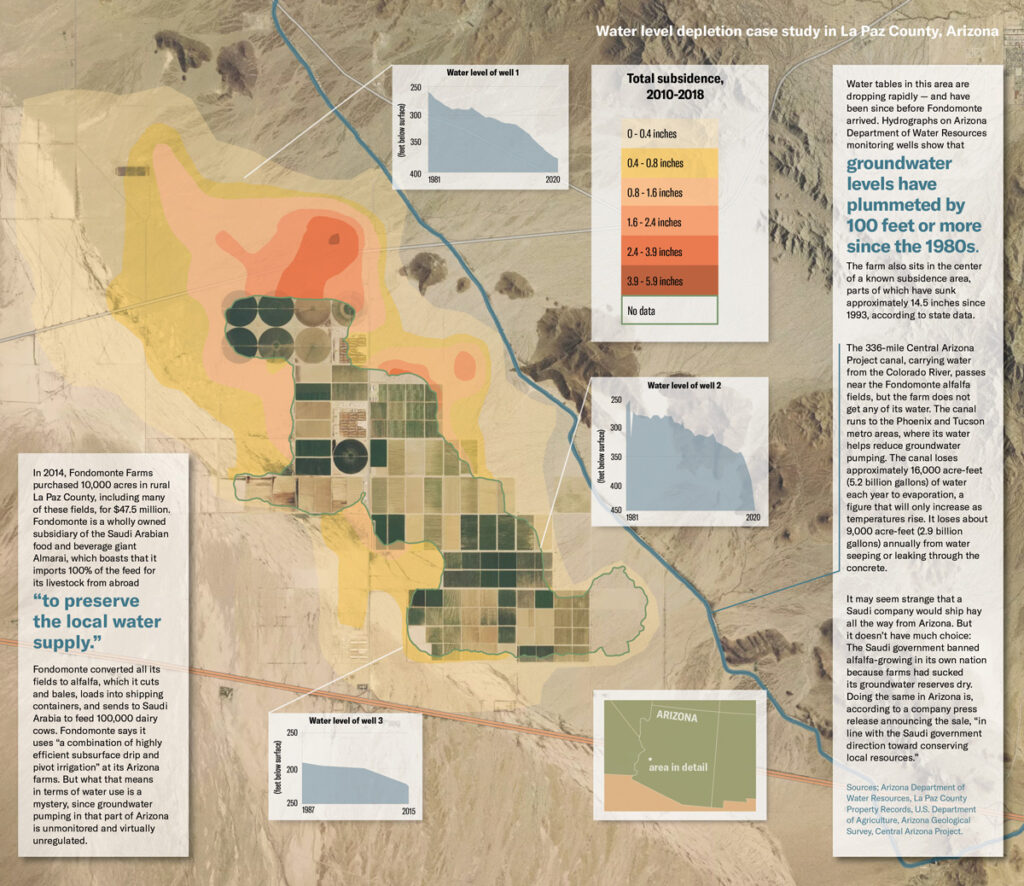 Jonathan Thompson is a contributing editor at High Country News. He is the author of River of Lost Souls: The Science, Politics and Greed Behind the Gold King Mine Disaster. Email him at jonathan@hcn.org or submit a letter to the editor.
This story was originally published at High Country News (www.hcn.org) on April 1, 2020.
The Water Desk's mission is to increase the volume, depth and power of journalism connected to Western water issues. We're an initiative of the Center for Environmental Journalism at the University of Colorado Boulder. The Water Desk launched in April 2019 with support from the Walton Family Foundation. We maintain a strict editorial firewall between our funders and our journalism. The Water Desk is seeking additional funding to build and sustain the initiative. Click here to donate.