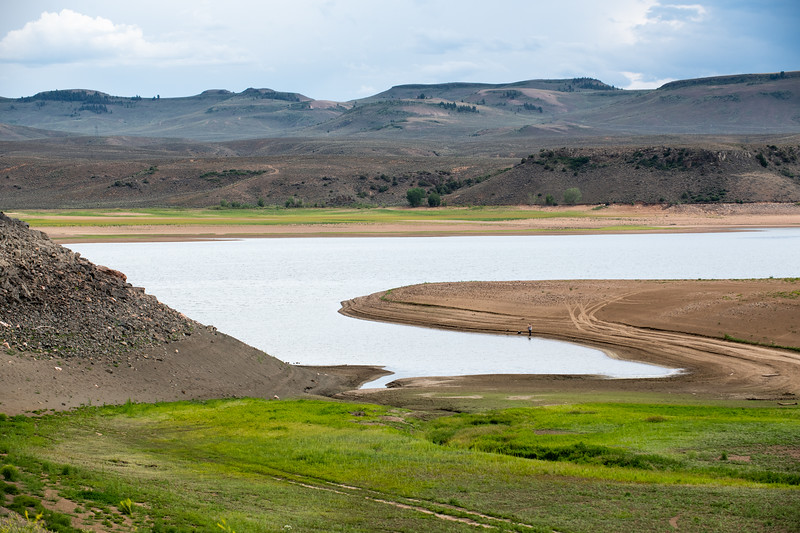 By Jerd Smith
As back-to-back drought years continue to reduce snowpack and spring runoff, Colorado's reservoirs are seeing little to any recovery in storage levels, members of the state's Water Availability Task Force said Tuesday.
"It's going to be a challenge for this year and the forseeable future until we get a banner snowpack year," said Karl Wetlaufer, assistant snow survey supervisor for the Natural Resources Conservation Service (NRCS) and a task force member.
Statewide reservoir storage is at 85% of average, a number that hasn't improved much in the past three years, Wetlaufer said.
Colorado derives the majority of its drinking and farm water supplies from mountain snows that are collected in reservoirs, and as a result, reservoir levels are closely watched.
Across the state's eight major river basins, those to the north remain the wettest, with the South Platte Basin, which includes metro Denver and the Northern Front Range, seeing storage levels at roughly 94% of normal.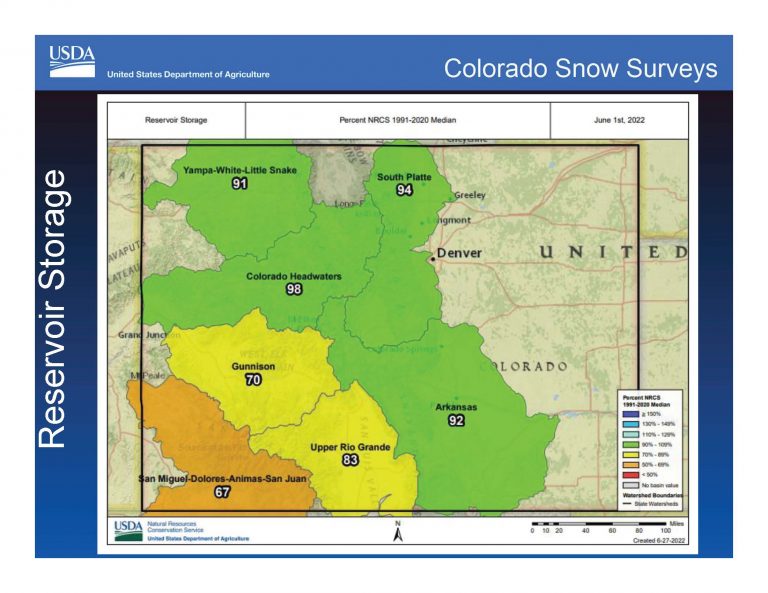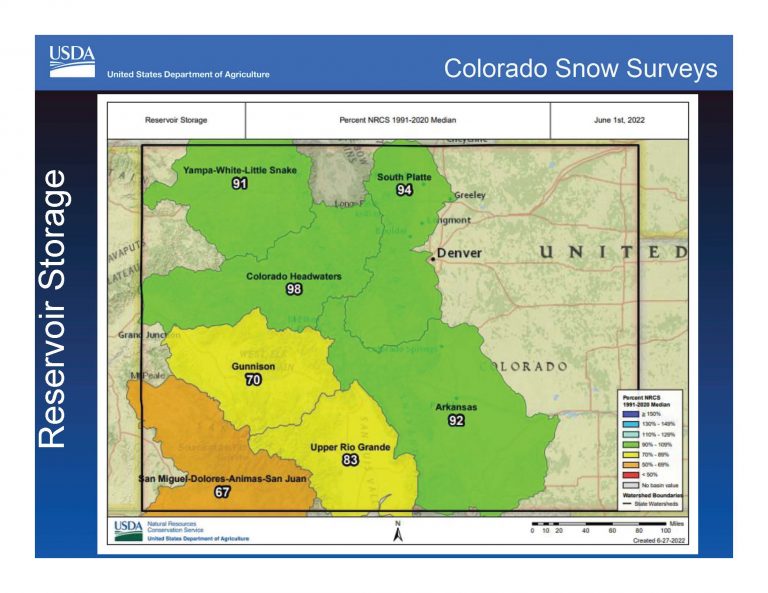 The Colorado River Basin headwater region has storage levels of 98%.
But to the southwest, in the hard-hit San Juan Dolores Basin, which includes Durango, reservoir storage levels are the lowest in the state, registering just 67% of normal,
At the same time, a new report from the U.S. Drought Monitor shows that the majority of Colorado remains in moderate to severe drought, with the southern portion of the state still mired in extreme drought.
Looking ahead to September, the forecast shows near normal precipitation for the state, but much higher temperatures as well.
At the same time, the drought continues to sap Colorado's rivers. Statewide stream flows are expected to hit just 69% of average. And in the picture in the dry southwest corner of the state is grim, with the San Juan Basin expected to see stream flows of just 26% of normal, while the Rio Grande Basin streams are expected to hit 33% of average, according to the NRCS.
Task force member Becky Bolinger, assistant state climatologist at Colorado State University's Climate Center, said the drought will likely continue into the fall and early winter. Though summer rains will help improve soil moisture levels, it won't be enough to compensate for the damage already done this year.
According to Bolinger, it is likely that La Niña conditions will continue into the fall and beginning of winter. But if the fall is warm and dry, that could worsen drought conditions and Colorado could start another snowpack season at a deficit.
Still, Colorado's ability to store water is a bright spot in the broader Colorado River Basin, where Lake Mead and Lake Powell are hovering around just 25% full.
The seven Colorado River Basin states, which include Colorado, New Mexico, Utah and Wyoming, in the Upper Basin, and Arizona, California and Nevada, in the Lower basin, are under an emergency order to come up with a plan to slash water use by 2 million to 4 million acre-feet by August or face mandatory cuts imposed by the federal government.
"We are not getting enough years like 2019 (which had above average mountain snowpacks) to boost reservoirs again," Bolinger said. "The more likely scenarios are for less water.
"Despite sounding all gloom and doom, if everybody knows what they have to work with, they will adjust. When you know what you're working with, then you can make good decisions," she said.
Jerd Smith is editor of Fresh Water News. She can be reached at 720-398-6474, via email at jerd@wateredco.org or @jerd_smith.
Fresh Water News is an independent, nonpartisan news initiative of Water Education Colorado. WEco is funded by multiple donors. Our editorial policy and donor list can be viewed at wateredco.org
The Water Desk's mission is to increase the volume, depth and power of journalism connected to Western water issues. We're an initiative of the Center for Environmental Journalism at the University of Colorado Boulder. The Water Desk launched in April 2019 with support from the Walton Family Foundation. We maintain a strict editorial firewall between our funders and our journalism.