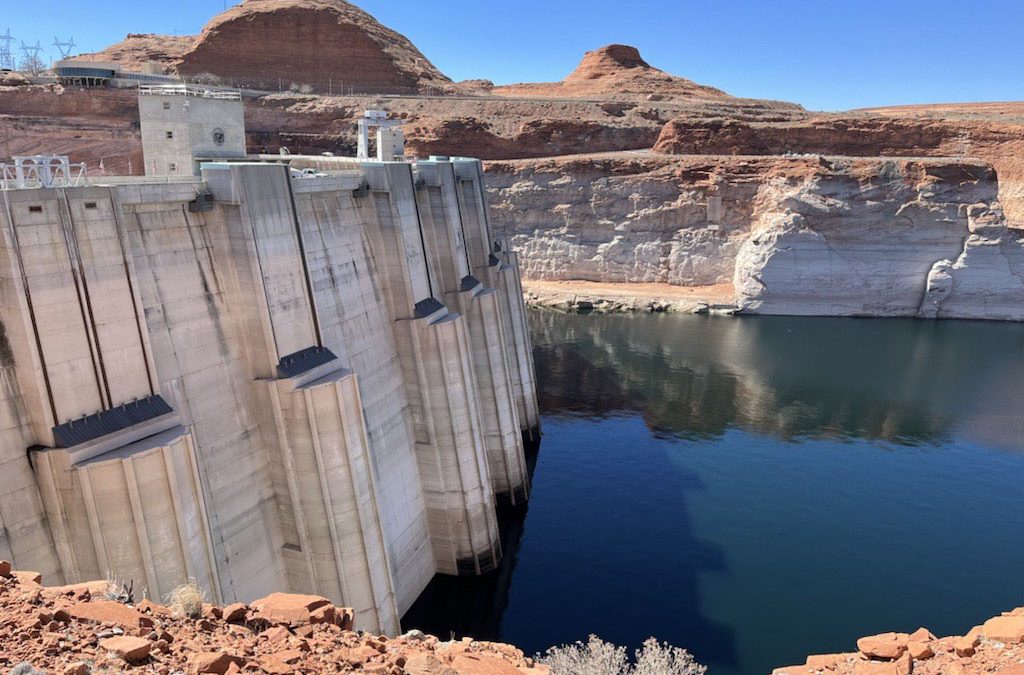 By Jerd Smith
New water recycling plants, fast-acting conservation programs, and repair of leaky reservoirs and pipelines will help restore the drought-stricken Colorado River system, federal officials said Tuesday.
Those actions, along with decisions last week to send 500,000 acre-feet of water from Utah's Flaming Gorge Reservoir to Lake Powell, and to hold 500,000 acre-feet of additional water in Powell, will help stabilize the rapidly deteriorating river system.
"We are taking extraordinary actions today because now is the time to do more. We do not have time to waste," Trujillo said.
Speaking for the first time publicly about the emergency decisions, U.S. Assistant Secretary of the Interior for Water and Science Tanya Trujillo said Tuesday that while the river system is struggling, there is also more money available than ever before to begin stabilizing the river, thanks to millions of dollars now available under federal infrastructure funding.
She said the water being added to Lake Powell will give federal water managers and scientists 12 months to figure out how to operate the system with significantly less water than it has ever had.
The Colorado River Basin covers seven states, as well as Mexico. The basin is divided into an Upper Basin — Colorado, Wyoming, Utah and New Mexico — and Lower Basin — Arizona, California and Nevada.
Its two largest storage reservoirs, lakes Mead and Powell, have been sapped by a series of ultra-dry years. Now the two lakes are at the lowest levels since they began filling, respectively, in the 1930s and 1960s.
Combined, the two reservoirs are less than 30% full.
Hydropower production at Lake Powell, which provides clean electricity to millions across the seven-state Colorado River Basin, has been declining for several years. As water levels have dropped, the turbines work less efficiently. This year power production sank to a new low, generating just 47% of the power it did before this 20-year-drought spell took hold in 2002.
Though the Colorado River system is struggling, for the first time agencies have enough federal funding to pay for more water conservation in Arizona, California and Nevada; to repair aging, leaky pipelines and reservoirs; and, most importantly, to build new water recycling plants, Trujillo said.
Trujillo said some $200 million in funding was set aside for critical water conservation efforts in Arizona, California and Nevada late last year, and that millions more is available for all the states in the basin under the new federal infrastructure funding approved by Congress.
"This may help us increase water recycling," she said. "And [recycled water] may be the only source of new water we have available."
With the coming 12-months expected to be dry again, water users are worried that no one has identified a long-term solution, or set of solutions, to bring the river back into balance.
Water For Colorado is a coalition of nine environmental organizations that advocate for sustainable water use. It said work to resolve the Colorado River crisis needs to move faster.
"A future of hotter, drier conditions has arrived. We must immediately accelerate the pace and scale of collaborative solutions to successfully reduce the basin's long-term risks, including greater conservation by all sectors throughout the Colorado River Basin," the coalition said in a statement.
"Our coalition is committed to identifying and developing tools to respond to extreme climatic conditions for the benefit of all within the basin so that emergency actions like the ones made today do not become the norm."
Jerd Smith is editor of Fresh Water News. She can be reached at 720-398-6474, via email at jerd@wateredco.org or @jerd_smith.
Fresh Water News is an independent, nonpartisan news initiative of Water Education Colorado. WEco is funded by multiple donors. Our editorial policy and donor list can be viewed at wateredco.org
The Water Desk's mission is to increase the volume, depth and power of journalism connected to Western water issues. We're an initiative of the Center for Environmental Journalism at the University of Colorado Boulder. The Water Desk launched in April 2019 with support from the Walton Family Foundation. We maintain a strict editorial firewall between our funders and our journalism.