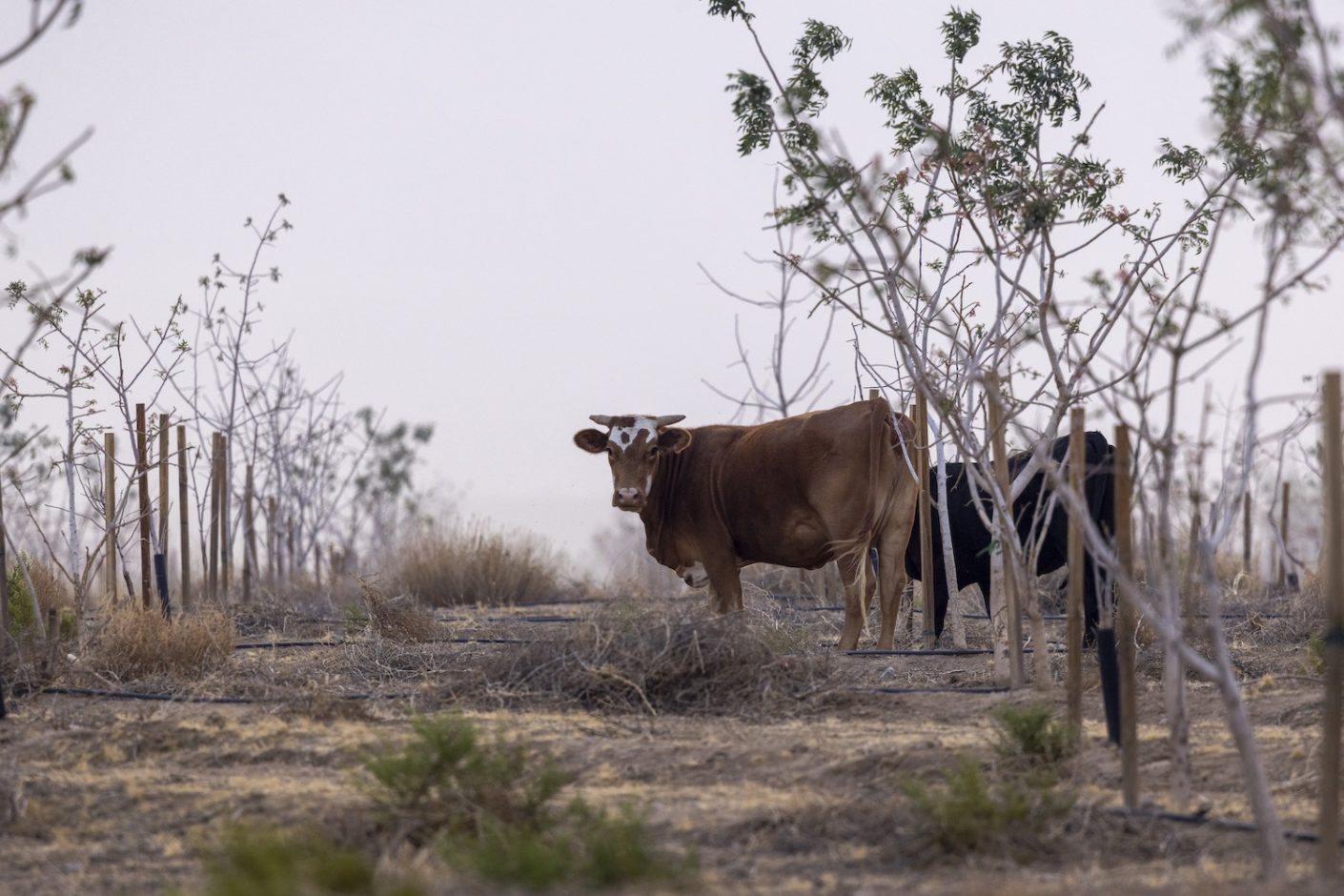 By Chris Malloy
When the summer monsoon ends the dry season in the Southwest, the Johnson farm gets its water. Lightning forks, thunder detonates, and rain drums mountains, evaporating at first in the fierce heat and dust and then soaking, collecting, and streaming down the foothills. The torrents rush into thin, empty riverbeds carved by the flash floods of storms past, channels called arroyos or washes. These vein the desert floor a short walk north of the Arizona-Mexico border, where, in a valley of the Tohono O'odham Nation, one wash rushes by the farm.
The Johnson brothers divert its floodwater to their fields, giving freshly planted seeds life. Like the region's Tohono O'odham farmers of old, Noland and Terrol Dew Johnson grow food using only rain, unlike most of U.S. farming which relies on modern irrigation. They might be the Sonoran Desert's last prolific Ak-Chin farmers, who practice a mode of drylands farming that has been practiced for eons.
"In this area of the Tohono O'odham Nation, farming was done by catch stream or by diverting rainwater from the main washes to the fields the farmers had started," said Terrol, who's also a vocal Tohono O'odham foods champion and basketry artist. "There are some areas that are known to flood very well. Villages were set up along these areas."
Traditional Ak-Chin farming uses rain and runoff for irrigation, much from the monsoon that brings the Sonoran Desert half of its annual precipitation. Called the North American monsoon, this powerful storm system crosses from Mexico into Arizona and New Mexico in mid-June and lingers until late September. In the Sonoran Desert, which includes Phoenix and Tucson, there are two rainy seasons: winter and summer. Between them span dry periods that can include rainless streaks of more than 80 days.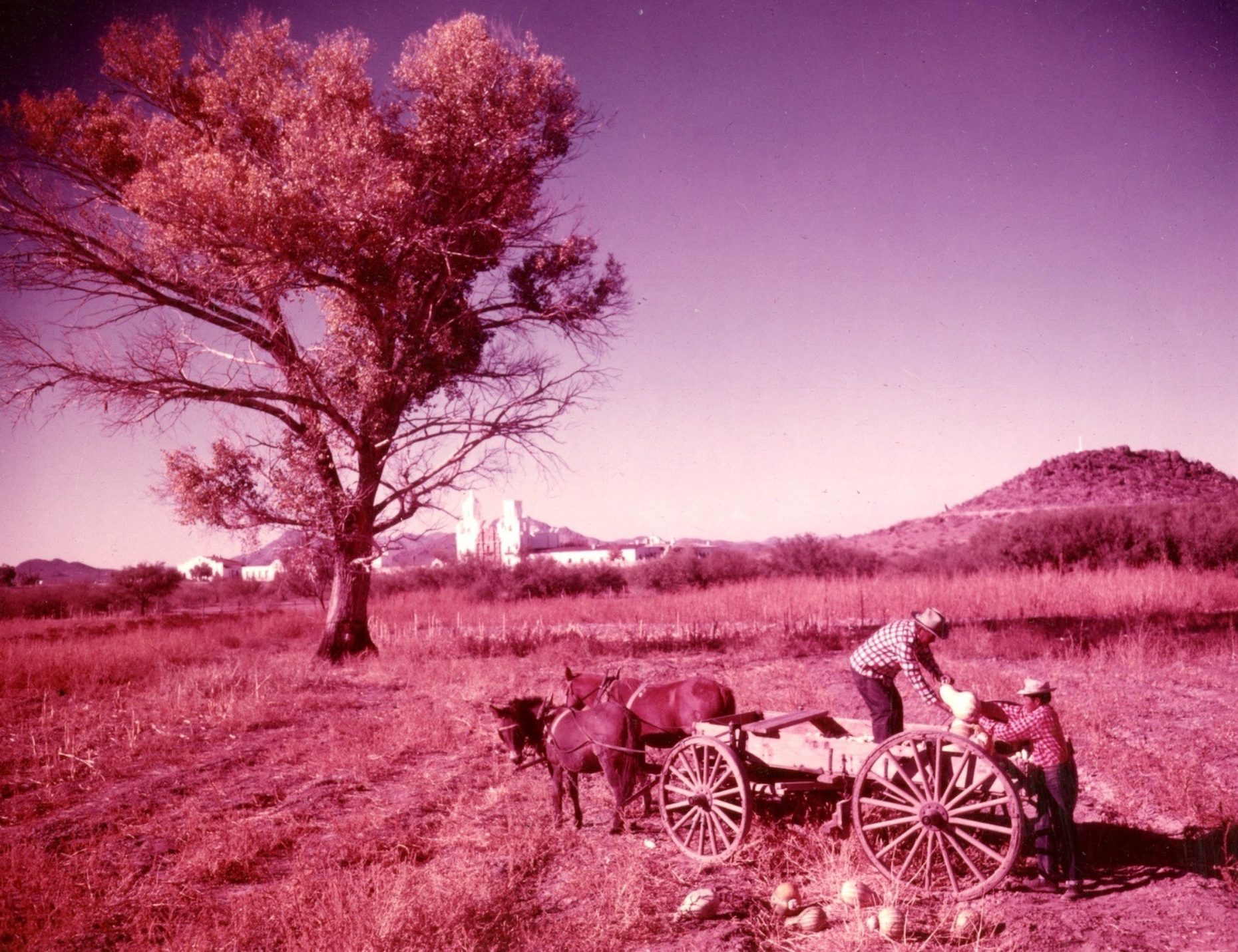 Many Americans have no idea that we get monsoons. These seasonally reversing winds creating wet summers affect two-thirds of the world's people, including tens of millions in drier parts of North America. Born from the interplay between cooler sea air and warming air overland (like all other monsoons), the North American monsoon begins on the Pacific Coast of Mexico in late spring. It shifts inland and moves north, drawing in warm air off the mountains, steering moisture northward, reaching Arizona and New Mexico by late June or early July. Over the coming months, it then turns semiarid land soaking wet for spells, dropping rain in light sun showers, ephemeral deluges, and long, biblical drenchings that tend to occur in September and can unload half a year's rain in hours.
Until the welcome deluges brought by the summer 2021 monsoon, recent monsoon rain hadn't come. The 2019 Phoenix monsoon was one of the five driest since 1896, when modern records began. Last summer was the driest; Phoenix saw less than an inch of rain and Arizona averaged 1.51 inches statewide (less than one-third the statewide average for the monsoon period). In fact, the 2020 monsoon was the driest on record across the Southwest. New Mexico's and Arizona's monsoons have been so rainless that some locals now call them "non-soons."
Has the region's monsoon diminished or otherwise changed, or do recent dry and exceptionally wet summers fall within natural, prodigious year-to-year variation? Some experts say yes, an outcome that would upend ranching and traditional methods of drylands farming. The Southwest is embroiled in a megadrought and precipitation has decreased in some parts in recent decades, but has climate change also changed the monsoon? It depends on whom you ask. To locals, especially those immersed in traditional modes of food production dependent on the seasonal rains, an altered monsoon would be no joke.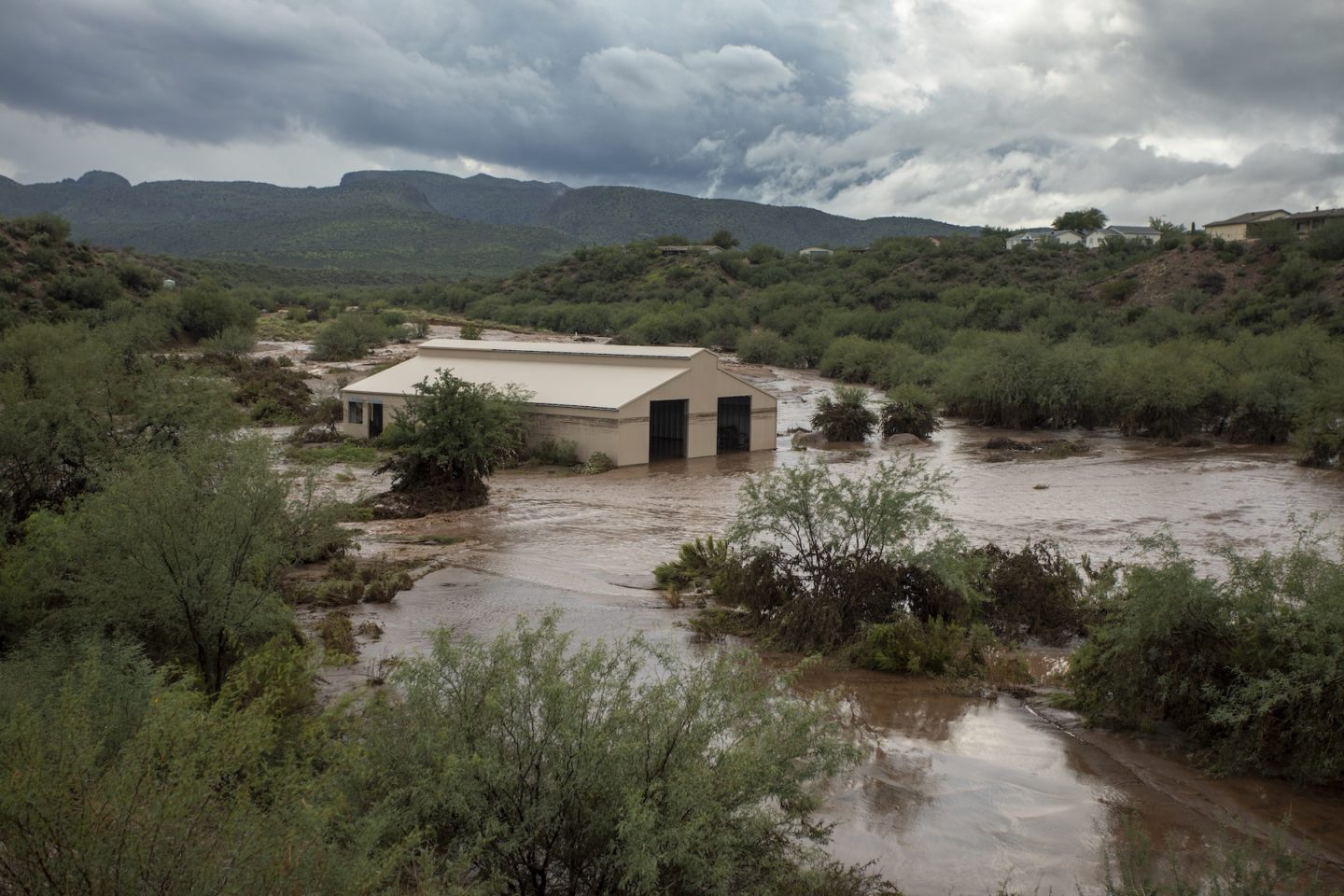 The North American monsoon is central to certain food economies, wildfire seasons, water management, biodiversity, and other core parts of life in swaths of the Southwest. Its rains sustain some 400 different plants in the Sonoran Desert alone, millions of acres of grazelands for cattle, and Indigenous methods of dryland farming. Monsoons also result in dangerous flash floods, cool relief, excellent photography, deep wonderment, and general celebration. Though technology like water pumps, center pivot irrigation, and air conditioning have curbed reliance on the monsoon in recent generations, its storms remain vital to culture, trades, rhythms, and life in its region, especially in Arizona and New Mexico, where storms hit hardest.
Ranching and Ak-Chin farming, two food traditions dependent on monsoon rain, speak to how variability and possible changes in the monsoon can bring difficulty. Both depend on the fickle rains in a naturally parched land where modern water sources—pumped in from faraway rivers or deep underground—are starting to become scarce. If the monsoon is changing, so must these food traditions, and with them the Southwest.
Beside a web of arroyos carving down from parched mountains, a ruddy dirt road splits the Johnson family farm. Circled over by hawks, fenced against the hunger of coyotes, wild cattle, and javelinas, the land is kept today mostly by Noland Johnson. Around the year 2000, he and his brother Terrol, both middle-aged today, restored family land that had sat idle since the passing of their grandfather, Alexander Pancho. Long before the abandoned parcel overgrew with mesquite trees, Pancho used Ak-Chin methods to capture monsoon rain and summon a harvest from 20 acres of withering desert. Come summer's end and early fall, Pancho's family would gather to pick corn, beans, squash, melon, wheat, and sugarcane.
"It wasn't just looking at the rain clouds and how they billow up. It's also looking at the stars. Elders would talk about how the constellations would tell them when the rain would come, or if it would come."
In recent years, Terrol and Noland, now veteran monsoon farmers, have taught dozens of others how to start Ak-Chin plots of their own. Terrol doesn't know any other Ak-Chin farmers who operate at their scale, only some who keep a small plot or microfarm. This is a vital tether to the deep past of the region, where, before forced assimilation, which included compulsory boarding school and re-education for children, Tohono O'odham made several intra-year migrations driven by water, including to temporary farm homes along washes just before summer's monsoon rains.
Does Terrol believe the monsoon has changed over time? "Oh yeah," he said.
He believes storm directions have shifted, become more irregular, that "rains are all confused and come in different areas now." In recent years, the farm hasn't gotten enough rain to grow on more than 15 to 20 acres, less than half their land. "It could now be a one-man job or a two-man job," Terrol said. "We used to have 40 workers."
Terrol recalled his youth, when Ak-Chin methods were more common. His grandfather seeded fields, repaired channels, and doctored arroyos to alter flow, often hiking miles to make small edits, like plugging holes and building dams from sticks to get water to the farm. After June's saguaro fruit harvest and wine ritual, meant to "bring down rain," farmers looked for celestial signs. "It wasn't just looking at the rain clouds and how they billow up," Terrol said. "It's also looking at the stars. Elders would talk about how the constellations would tell them when the rain would come, or if it would come."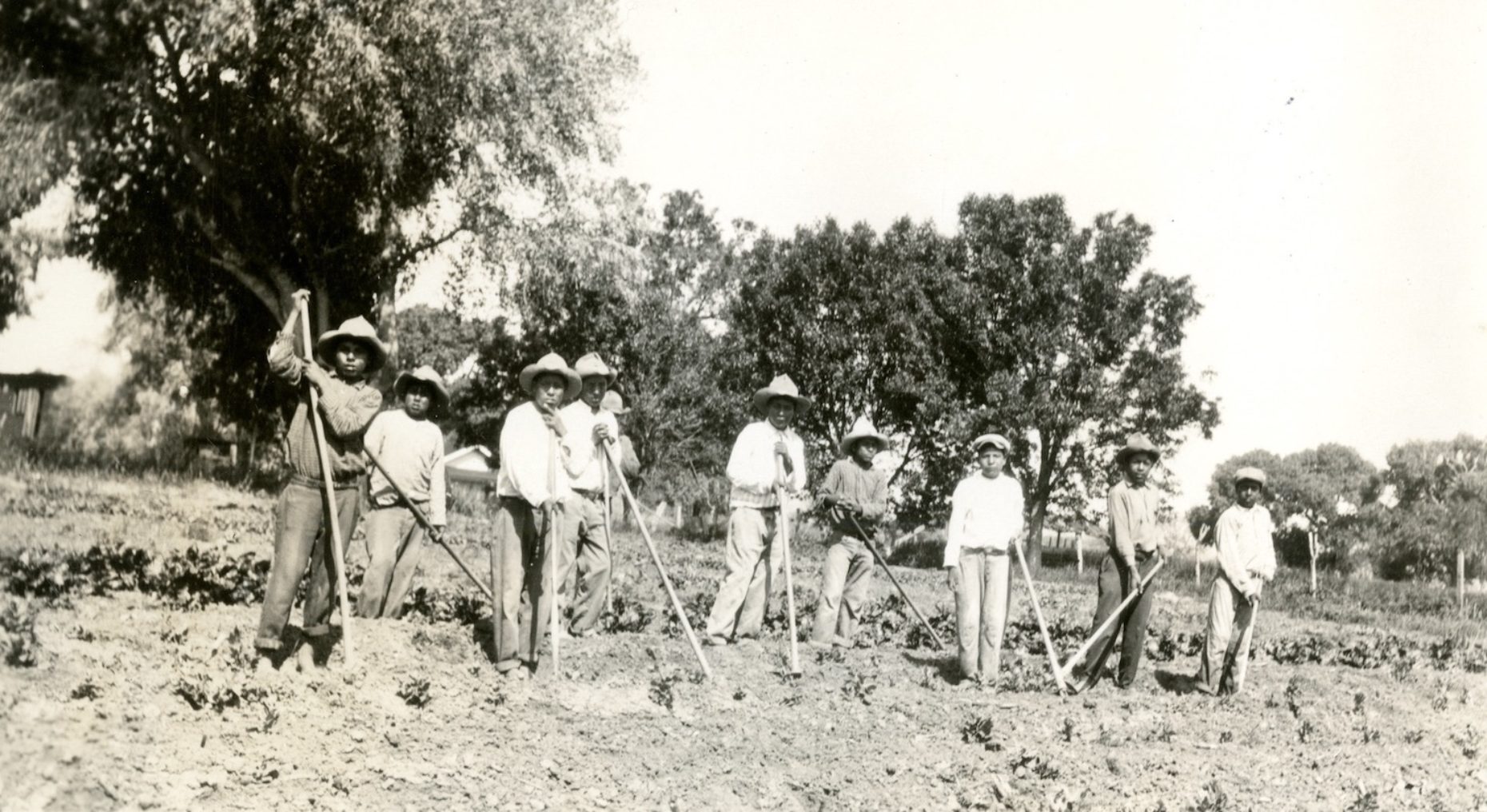 Recent years have meant watching mostly in vain. Still, Noland prepares their rust-red soil near the village of Cowlic, Arizona. Still, the Johnsons sow arid-adapted Tohono O'odham seeds, such as tepary beans, h:al squash, and Pima 60-day corn. Still, they prepare to route runoff to their land's three charcos, deep holes dug for storing water. And still, they pray for rain.
A few hours east of Cowlic exists land renowned for chiles, pueblos, and sunsets, but it should also be better known for cattle. New Mexico has some 1.4 million, and its history with livestock dates to the 1500s. In 2019, livestock accounted for $2.43 billion of New Mexico's $3.44 billion in agricultural production, some 70 percent. Rangelands cover more than 90 percent of the state. In New Mexico and Arizona, cattle roam open land. In order for grasses and, thus, cattle to grow, ranchers need rain. Before the fall slaughter, ranchers need summer monsoons.
"The rain has been sporadic," said Andrew Cox, a rancher in the northern tip of New Mexico's Chihuahuan Desert. "The timing of rainfall is out of sync with historical rainfall. The monsoon season has seen a shift, from July through the beginning of September, more to August through the end of September, beginning of October."
Delayed rain, even when robust, can create headaches. "In this area here, the majority of the desirable perennial native grasses rely on that timeframe of rainfall," Cox said, referring to the traditional earlier window. "And when it shifts, it might not do so much good as far as growing native desirable grasses."
Less monsoon rain has been hard on Cox. "I'm coming out of three really bad years, so I don't have many cattle at this point in time," he said in late spring.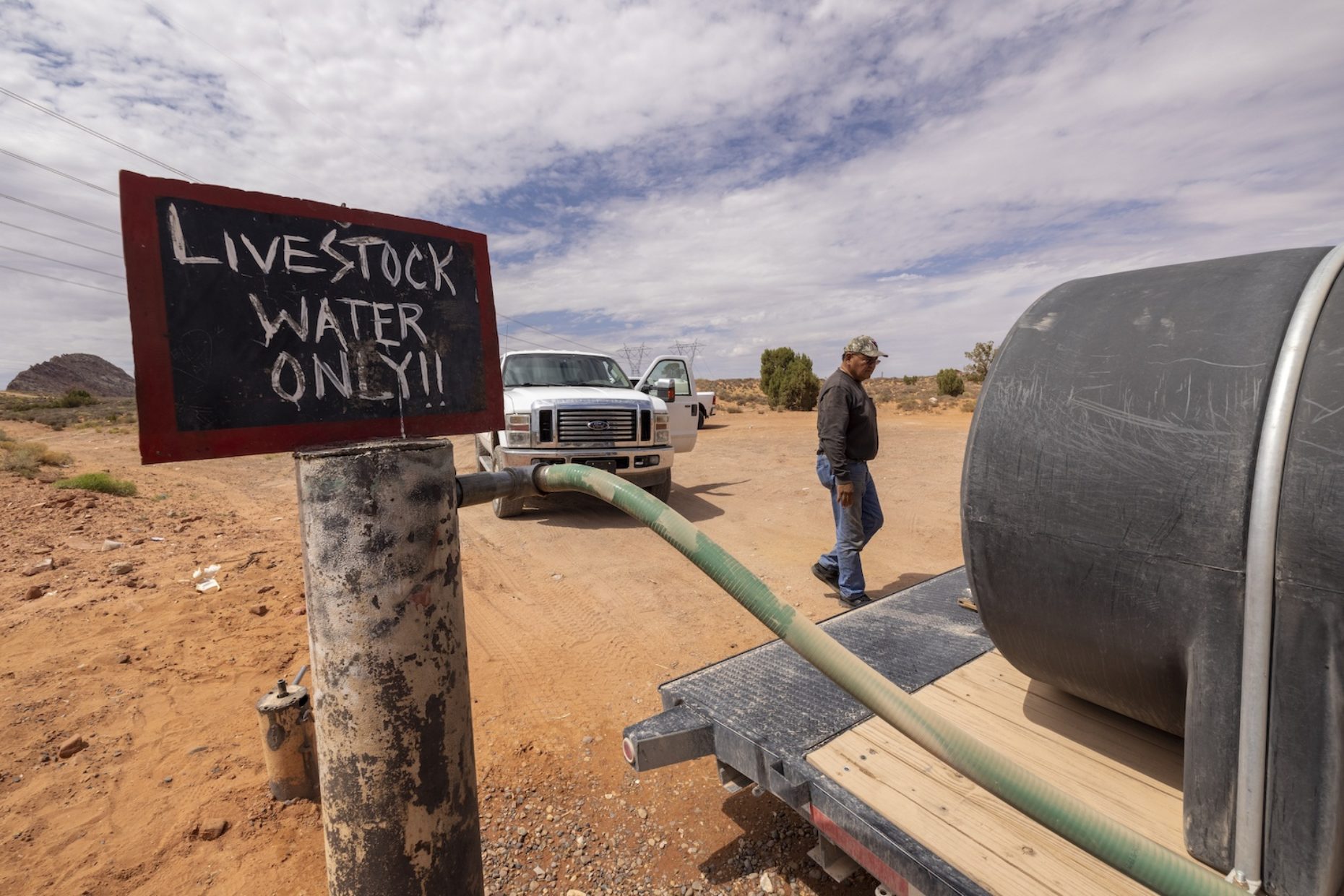 John Guldemann, a rancher in the twilight of his career who has raised cattle from Arizona's Chiricahua Mountains to Anthony, New Mexico, has learned to rely on nothing but brush in dry summers, like the ones in 2019 and 2020. His cattle have learned to eat mesquite beans, yucca flowers, and prickly pear fruit. "When it only rains a little bit and you have some green grass, yeah, you take advantage of it," he said. "But the rest of the time those cattle better know how to eat brush and weeds and things like that."
When summer rains are weak, ranchers have to reduce stock. Rangelands bereft of grass tend to support fewer animals. With fewer animals, it can be harder to breed back stock to former levels for next year. Without grass, too, the cattle of the reduced stock will be lighter; they will fetch less profit. "During a drought year, you might be weaning a 300-pound calf," Guldemann said. "During a good wet monsoon, you'll be weaning a 500- to 600-pound calf."
Cattle also need to drink—no easy task in semiarid country. Many Southwestern ranchers use groundwater pumped up from the earth. "Groundwater doesn't grow 100,000 acres of grassland, but can fill up a stock tank," said David Gutzler, professor of earth and planetary sciences at the University of New Mexico. Gutzler notes that a hale monsoon can fill stock tanks with rainwater, leaving groundwater, which is reaching dangerously low levels, to farmers or in the earth. This saves ranchers money, as pumping water for cattle from deep underground requires energy that comes with financial expense.
Northeast of Las Cruces, New Mexico, the Department of Agriculture (USDA) manages the Jornada Experimental Range, where researchers study how ranchers might adapt to our drier future. Sheri Spiegal, a range management scientist, is one of the research leaders. Monsoons enter her calculus.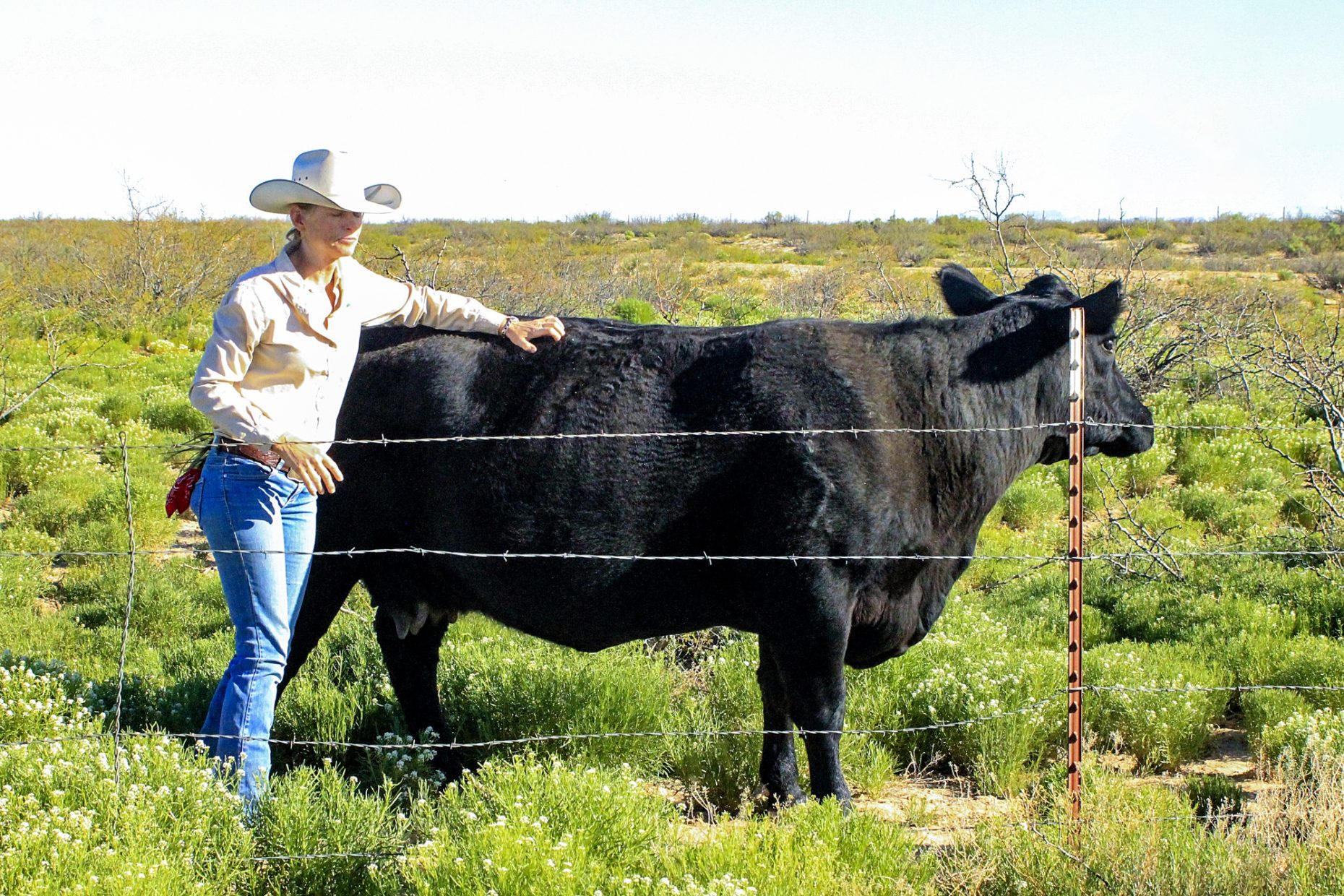 According to a study she co-authored, over the past 14 years the local summer growing season has started later and ended earlier. In the last quarter-century, temperatures have risen. Over the past 52 years, the study shows, precipitation has decreased. Spiegal isn't sure how much of these changes stems from a potentially changed monsoon season or from climate change more broadly.
Spiegal echoes ranchers, citing the centrality of soaking monsoon rains to cow-calf operations, the style of ranching dominant in New Mexico. "You are growing your calves in the summer," she said. "It's the time to recover and to lactate, grow, and to put on weight."
Another scientific possibility is an increase in powerful storms. "More intense storms could result in more erosive forces where places used to be covered in grass and there's a major regime shift to shrubs, and therefore less soil cover overall," Spiegal said.
Less soil cover, of course, would also affect farms.
"More intense storms could result in more erosive forces where places used to be covered in grass and there's a major regime shift to shrubs, and therefore less soil cover overall."
As a counter to potential rain-related changes, Spiegal and her fellow researchers are studying new methods of ranching. One is precision ranching: bringing new technology to water stocks and tracking cattle location, allowing ranchers to monitor them more efficiently from afar, especially in times of patchy rainfall. Another method is the use of highly desert-adapted cattle breeds. One breed, the Raramuri Criollo, can tolerate high heat and dryness, and researchers are studying to see if the breed will eat some of the lower-nutrient shrubs that survive when summer rains fail.
Adapting isn't only about ranchers and consumers—it's also about towns, people, and local economies. "There's an infrastructure around ranching that really underlies a lot of jobs," Spiegal said.
Monsoon variability vexes predictive climatologists. Many studies conflict—some predicting less rain in the future, some more. But there is general agreement on a few points, including one that underlies many others: Climate models need more definition to capture all the factors necessary to make highly accurate predictions. Scholars of the monsoon vary on how the storms are changing or if they are changing. Some think we need more evidence to predict. Many believe a few ongoing changes are possible, probable, or more certain.
Gutzler, now an emeritus professor, has studied the monsoon for most of his career. "The North American monsoon is extraordinarily challenging to characterize, describe, and model, and is therefore extraordinarily challenging to predict," he said. "It's not that we understand nothing about the monsoon. We understand many pieces of it. And putting the whole thing together as a large-scale phenomenon is very difficult." He believes there has been progress over the decades, yet predicting long-term changes remains elusive. "Sometimes I feel like a blind man trying to touch an elephant and describe what it looks like," he said.
Salvatore Pascale, a Stanford University research scientist who has used climate modeling to study monsoons on several continents, agrees. He notes that the monsoon's natural variability can "counteract" signals of climate change caused by humans. "The North American monsoon is the smallest of all monsoons on earth," he said. "It's perhaps the one for which we know the least, in terms of response to human-caused global warming."
Pascale's model predicts with "low-to-medium confidence" that the North American monsoon will become drier (meaning less rainfall). He has "more confidence" that monsoon storms are becoming more extreme. Mean rainfall trends are up for scientific debate, though Pascale's models are among the most advanced. Increasing storm extremity has broader support.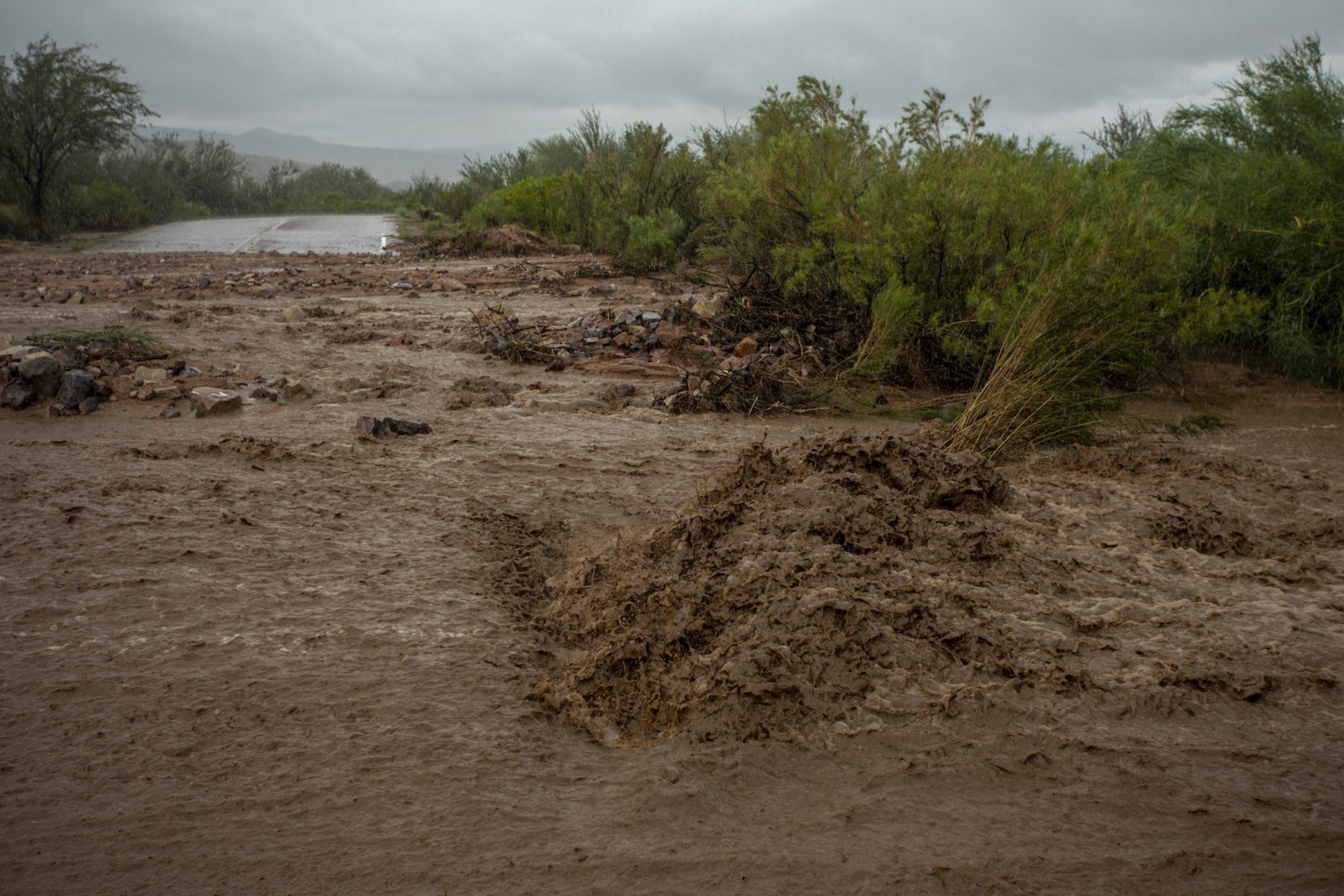 Led by hydrologist-meteorologist Eleonora Demaria, a USDA study analyzed monsoon rainfall data collected at 59 rain gauges in Arizona's Walnut Gulch Experimental Watershed from 1961 to 2017. Data didn't show notable trends in mean rainfall changes. But it did show that stronger monsoon storms have intensified over time. It also found that storms have been coming later in the season. Though this study drew from the most granular set of rainfall data of arguably any study on the North American monsoon, it only described one tiny part of Arizona. The local nature of monsoons makes extrapolating results from one place to another fraught. Moreover, past doesn't always predict future.
Chris Castro, a hydrology and atmospheric sciences professor at the University of Arizona, has reached more definite conclusions. "Atmospheric instability and moisture during the monsoon have substantially changed over the past 30 years within the Southwest," he and his co-authors found in a 2017 study, noting that these changes have created "an overall increase in atmospheric instability." The study found that the mean daily monsoon precipitation in the Southwest has generally decreased. Extreme rainfall events, it concludes, have become more intense.
Over the literature, a few trends emerge: Rainfall might be decreasing; storms are very likely becoming more intense; and monsoon season might be starting later.
The trend of more intense storms has an impactful corollary. "If the models are projecting little or no change in the total [rainfall], but the intense events are becoming more intense, then the implication is there's more time in between the intense events." Gutzler said. So, in a scenario where monsoon rain is decreasing over time or staying the same, rainfall events will become more infrequent but stronger, bringing more rain. This means longer stretches without rain between storms—and that increasingly intense soakings might bring all of a given summer's rain in hours during a slimmer window and, potentially, making it harder for plants, animals, and people to use.
When finding fact, balancing science and lived experience can be difficult, especially when the science is admittedly incomplete and the lived experience compelling. It's not that the monsoons are unchanged from an academic research standpoint. It's that, as of today, science doesn't have the tools needed to tell or predict their full story.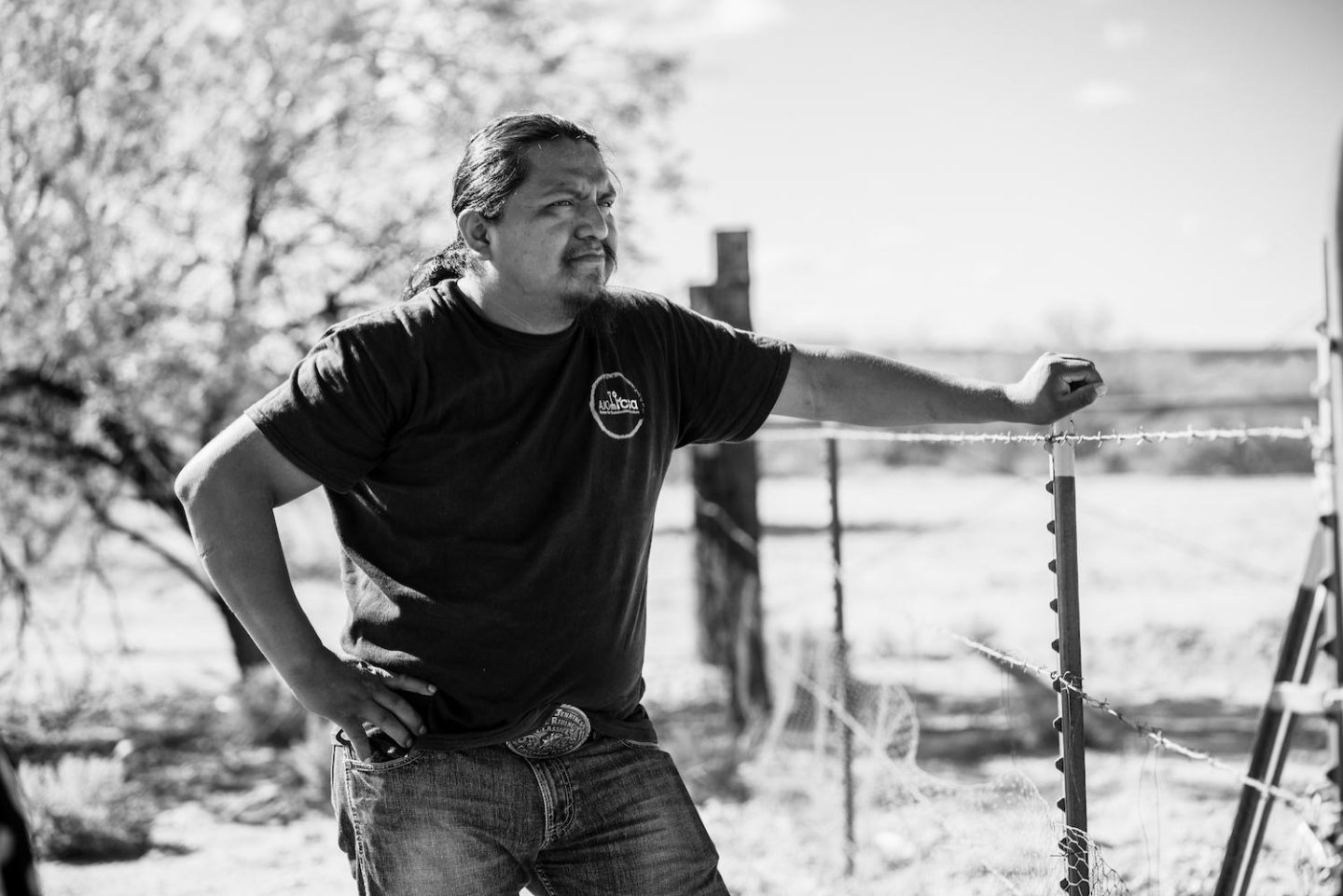 Sterling Johnson keeps small Ak-Chin fields in Ajo and Newfield, Arizona. Also a professional rodeo rider late in his career, Sterling started farming after an injury left him in need of a new income stream. He learned traditional farming by apprenticing with Terrol and Noland Johnson, distant family, as their grandfathers were cousins. Lately, he has hoped to grow Tohono O'odham and nontraditional crops on a larger scale, especially on his one-acre farm in Newfield. The recent lack of summer rain, however, has been trying.
"It's a hard look at reality," he said. "We're lucky if we get one monsoon rain and two casual ones, nothing like it was before."
To farm monsoon rains, rain must come. Sterling said it once did. He described past monsoon seasons that brought "waves of rain stopping and starting," storms that rushed to his sown patch of the desert "like a hurricane."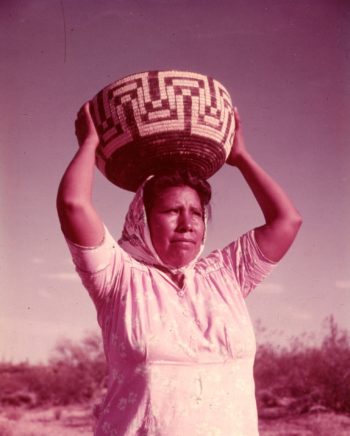 Just like Terrol and Noland, Sterling now teaches Ak-Chin. These days, more Tohono O'odham know the method than when he started. Provided rain comes, this means there are more potential teachers, many of whom have learned from Terrol and Noland. Learning the old farming is important, Sterling believes, but hard. "It takes multiple monsoons to figure out this thing," he said.
Nevertheless, even without much monsoon rain in many recent summers, he keeps hope. "To know that more people are farming now, it's making things look brighter for the future," he said.
In eastern New Mexico, Sam Ryerson, a founder of grazing company Grass Nomads, ranches and consults for other ranchers. Ryerson said the lack of monsoon rains has led many to modify time-honored rangeland methods. "It's important to shift our production cycle to fit the situation," he said. "More people are shifting their production, like shifting their calving season later in the year, when the grass is more likely to be green."
Last year's monsoon in his parts was "pretty weak." Ranchers were forced to sell cattle early, to part with breeding cows they've spent "years if not generations growing." The profit-sapping early sales are forced by nature upon ranchers, who "just don't have grass."
"It's important to shift our production cycle to fit the situation. More people are shifting their production, like shifting their calving season later in the year, when the grass is more likely to be green."
Ryerson travels seasonally now, splitting time between New Mexico and Montana. He is a grass nomad, following cycles of rain. He leaves for pastures north for part of the year "because that's where the grass is."
Despite the region's worsening drought and Colorado River levels that have caused the federal government to declare a shortage and rationing for basin states, hopes across the Southwest for a rainy 2021 monsoon have been met. Still, there are fears that one of the fundamental life-giving forces of the region is changing, that the drier days of the future are, horrifyingly, the drier days of today.
This article was supported by The Water Desk, an independent journalism initiative based at the University of Colorado Boulder's Center for Environmental Journalism.
The Water Desk's mission is to increase the volume, depth and power of journalism connected to Western water issues. We're an initiative of the Center for Environmental Journalism at the University of Colorado Boulder. The Water Desk launched in April 2019 with support from the Walton Family Foundation. We maintain a strict editorial firewall between our funders and our journalism.
Longform Story CSS Block