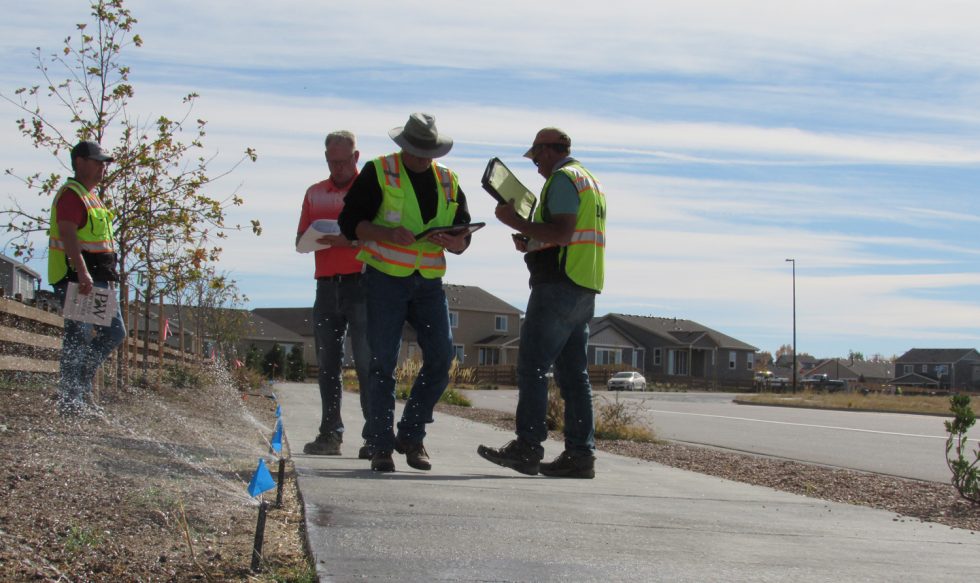 By Jerd Smith
Douglas County Commissioners will travel to Colorado's San Luis Valley next month to hear first-hand what residents there think of a controversial proposal to export farm water to the fast-growing Front Range.
Late last year, Renewable Water Resources (RWR), a Denver development group that includes former Colorado Gov. Bill Owens, asked Douglas County to use $20 million of the federal covid-relief funds the county has received as a down payment on the proposal, which has an estimated initial price tag of more than $600 million. Since then the company has reduced its request to $10 million.
Douglas County Commission spokesperson Wendy Holmes said the commissioners plan to gather as much information from the public as possible before making a decision on whether to help finance the deal.
"This is a very transparent process," she said. The San Luis Valley meetings are scheduled for March 26 in Monte Vista, with details on times and locations still being finalized.
Colorado's growing population is putting pressure on fast-growing communities to find additional water.
The Front Range needs more than 500,000 acre-feet of new annual water supply by 2050 to stave off shortages, according to the Colorado Water Plan. That's enough water for about 1 million new homes.
In Douglas County, the number is smaller but the problem is more urgent. Douglas County communities, along with parts of El Paso and Elbert counties, relies on an aquifer that, unlike the one in the San Luis Valley, is not a renewable resource. And levels in that aquifer, known as the Denver Aquifer, are dropping.
Cities such as Castle Rock currently rely on the Denver Aquifer for roughly 70% of their water, and although Castle Rock has acquired some surface water rights and operates a water recycling plant, they still need more fresh water to ensure they don't drain their underground supplies.
Several projects are in the works to help address looming shortages. RWR has not yet identified who the ultimate customers for the San Luis Valley project would be.
RWR is only the latest in a handful of companies that have tried to export water out of the iconic San Luis Valley, which is home to the second largest potato-growing economy in the nation, but which also has one of the highest poverty rates in the state. All have been defeated.
Like other parts of Colorado and the American West, the ag-based community along the Rio Grande River has been hit hard by drought. It is under a state order to reduce water use from the aquifers underlying the valley in order to protect senior water users and ensure Colorado can continue to deliver water to Texas and New Mexico, as it is legally required to do under the Rio Grande Compact.
RWR has already purchased thousands of acres of farm land in the valley with water rights associated with it. Under RWR's proposal, 22,000 acre-feet of water would be transported via pipeline to the Front Range. RWR has said repeatedly that its proposal would be an economic boost to the valley because it would take some of that acquired farm land out production, leaving 8,000 acre-feet of unused water in the valley that could go toward helping restore the aquifers and relieve strain on the Rio Grande. It has also pledged to provide a $50 million community fund, to help create new economic development programs in the valley.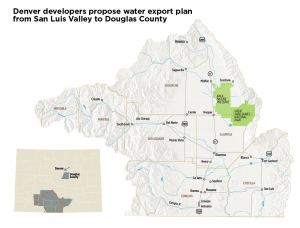 Critics of the proposal, including the Rio Grande Water Conservation District in Alamosa, argue that no water should be taken from the valley because it will need every drop to support the local agricultural economy.
Environmental groups have also come out in opposition, as have numerous elected leaders including Democrats Gov. Jared Polis, Attorney General Phil Weiser, U.S. Sen. John Hickenlooper and U.S. Sen. Michael Bennet, as well as Republican Congresswoman Lauren Boebert, who represents the valley.
RWR spokeswoman Monica McCafferty said the company wasn't surprised by the emergence of such powerful political opposition.
"It's easy to oppose things," McCafferty said. "It's harder to be for something. We want the leaders in our state to keep an open mind and to base their opinions on facts."
Mike Carson, an Alamosa City Council member and head of Protect Our Water, a local group that opposes the export plan, said he doesn't believe the RWR proposal will benefit the San Luis Valley.
"I don't see that that would happen," he said.
In January, RWR reduced its initial $20 million request to $10 million, according to a letter sent to Douglas County officials, citing uncertainty over interpretations of the new federal spending rules and suggesting that an "unrestricted" set of the federal American Rescue Plan Act funds be used instead.
How much money RWR has raised itself for the project isn't clear. McCafferty said she did not know.
The most recent documents at the U.S. Securities Commission, filed in December of 2019, indicate that the company at that time had raised $5.7 million of a stated goal of $28.5 million.
Douglas County spokeswoman Holmes said the county has received dozens of water project proposals worth a total of $280 million and that the county only has $68.2 million in federal ARPA funds.
Holmes said the county has much more analysis to do before it will make a decision on whether to help finance the export proposal.
"We plan to do lots and lots of due diligence," she said.
Jerd Smith is editor of Fresh Water News. She can be reached at 720-398-6474, via email at jerd@wateredco.org or @jerd_smith.
Fresh Water News is an independent, nonpartisan news initiative of Water Education Colorado. WEco is funded by multiple donors. Our editorial policy and donor list can be viewed at wateredco.org.
The Water Desk's mission is to increase the volume, depth and power of journalism connected to Western water issues. We're an initiative of the Center for Environmental Journalism at the University of Colorado Boulder. The Water Desk launched in April 2019 with support from the Walton Family Foundation. We maintain a strict editorial firewall between our funders and our journalism.