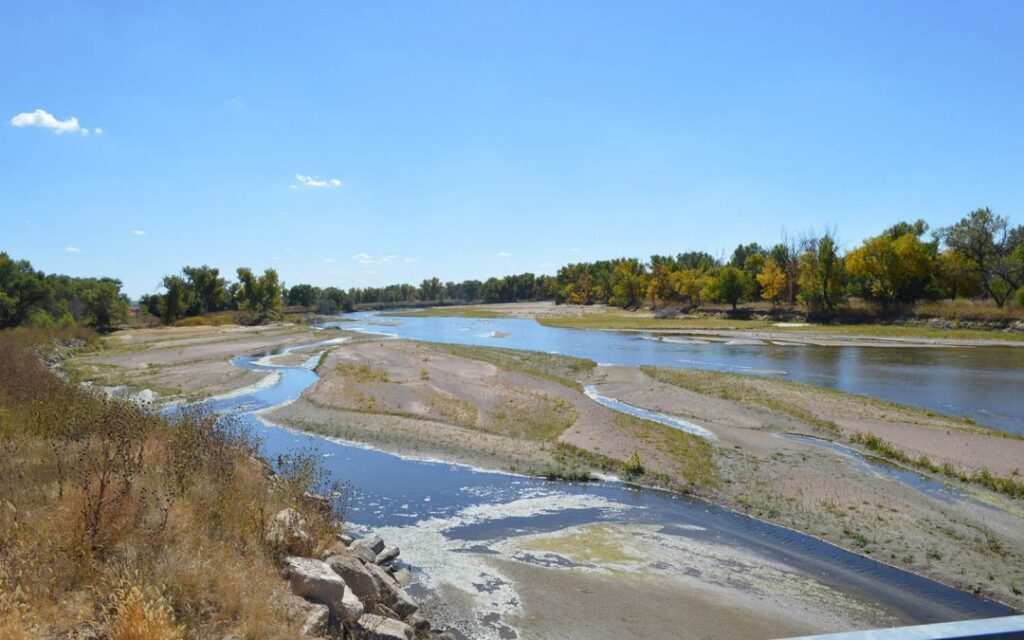 By Jerd Smith
Thirsty Front Range Colorado cities continue to drive the market for South Platte River farm water, with Aurora announcing two major deals to acquire farms and their associated water rights for $43.7 million.
One deal involves the $16.7 million purchase of a small ditch company near Merino, as well as 1,200 acres of land. The second purchase, for $27 million, involves water rights near Evans formerly owned by the Broe Companies, according to Aurora Water spokesman Greg Baker.
"The South Platte is where the water rights are right now," Baker said. "As farmers are looking at their future, as they get out of farming, if their kids don't want it or another farmer doesn't want it, this is their asset to sell."
Together, Aurora estimates the deals will provide about 2,652 acre-feet of water to the city, water equal to the amount needed to serve some 5,300 homes.
Earlier this year in another major deal, Parker, along with the Sterling-based Lower South Platte Water Conservancy District, announced it would claim a major new water right in the South Platte near the Nebraska border.
The Aurora purchases, first reported by the Sterling Journal Advocate, are raising concern among Northern Colorado water suppliers and agriculture interests, who fear the sales will limit the region's own ability to grow and could perpetuate a practice known as "buy and dry," where farm land is purchased and its water diverted for other uses.
Such water transfers off of farms have harmed other rural farm communities in Colorado that rely on agriculture for jobs and tax revenue.
Aurora's water purchases "do cause me concern," said Brad Wind, general manager of Berthoud-based Northern Water, which serves such communities as Greeley, Fort Collins and Broomfield, as well as hundreds of farmers. Like the West Slope, Northern Colorado communities want the water to stay local, although legally it can be bought, sold and moved.
Aurora officials said they haven't decided what shape the water projects ultimately will take. But they hope to avoid buy-and-dry scenarios, relying instead on long-term leases and water sharing agreements with growers in the area.
"Buying water rights in the South Platte does not mean that we're going for a buy and dry," said Dawn Jewell, a water resource planner for Aurora. "We need additional supplies for our build out."
Aurora uses about 50,000 acre feet of water annually now, and could need more than twice that much to handle its growth through 2070.
"There are many unknowns right now but this gives us a prime opportunity to look at other options, such as ATMs," Jewell said.
ATMs, or alternative transfer methods, typically involve water sharing and leasing between cities and farms and are being studied across the state as a potential tool for minimizing buy-and-dry water deals.
The South Platte River Basin, which spans from west of South Park north and east through Denver to the state line, is home to Colorado's largest irrigated agriculture economy with roughly 1.3 million acres of irrigated farm lands.
It is also home to the state's largest cities, whose populations are set to swell by 2050.
As a result of that growth the state estimates the South Platte's irrigated farm lands could shrink dramatically as fast-growing, water-short cities such as Aurora, continue to search for new supplies.
The Colorado Water Plan estimates that the South Platte Basin will lose more than 100,000 acres of irrigated land due to urban growth in the next 30 years.
Urban water providers in the region will need to find at least 183,000 acre-feet of water in the next 30 years to ensure shortages don't develop even after significant conservation occurs, according to state forecasts. That is equal to the amount of water needed to serve more than 360,000 new homes.
Some small communities along the Front Range already know exactly how much they can grow with their existing water supplies. Barbara Biggs, chair of the Metro Basin Roundtable and general manager of the Roxborough Water and Sanitation District, said her district has enough water to supply its service area, but has already told landowners on the town's borders that it has enough water to supply only another 124 homes.
"Once those are built, we're done," Biggs said. Her district's water comes from a long-term water lease with Aurora that dates back to the 1970s. Biggs said that while her district eventually will use all of its water, stopping growth, such restrictions are much harder for big cities to adopt, in part because they cause housing prices to rise.
The recent South Platte water purchases come as a major collaborative water project in the basin was gaining momentum.
Now that project, known as the South Platte Regional Opportunities Water Group, or SPROWG, is in pause mode, according to several participants. It was conceived to help numerous cities reuse water and to move water back and forth more easily between farms on the Eastern Plains and the urban areas farther south and west.
As competition for water in the South Platte heats up, talks are underway to see if smaller versions of SPROWG that could be brought on line more quickly are feasible and could provide opportunities for Front Range cities to collaborate, according to Joe Frank, manager of the Sterling-based Lower South Platte district.
"We are definitely concerned about [the Aurora purchases]," said Frank, whose district is collaborating with the Parker Water and Sanitation District on a major South Platte River project whose participants have said won't involve buy and dry, but will rely instead on using alternative transfer methods.
"We're not putting fault on anyone," Frank said. "You can't fault the farmers. Their water has value, and I'm not pointing fingers at Aurora. Their hands are tied. The problem is that there are not very many other options on the table."
Jerd Smith is editor of Fresh Water News. She can be reached at 720-398-6474, via email at jerd@wateredco.org or @jerd_smith.
This story originally appeared on Fresh Water News, an independent, non-partisan news initiative of Water Education Colorado. WEco is funded by multiple donors. Its editorial policy and donor list can be viewed at wateredco.org.