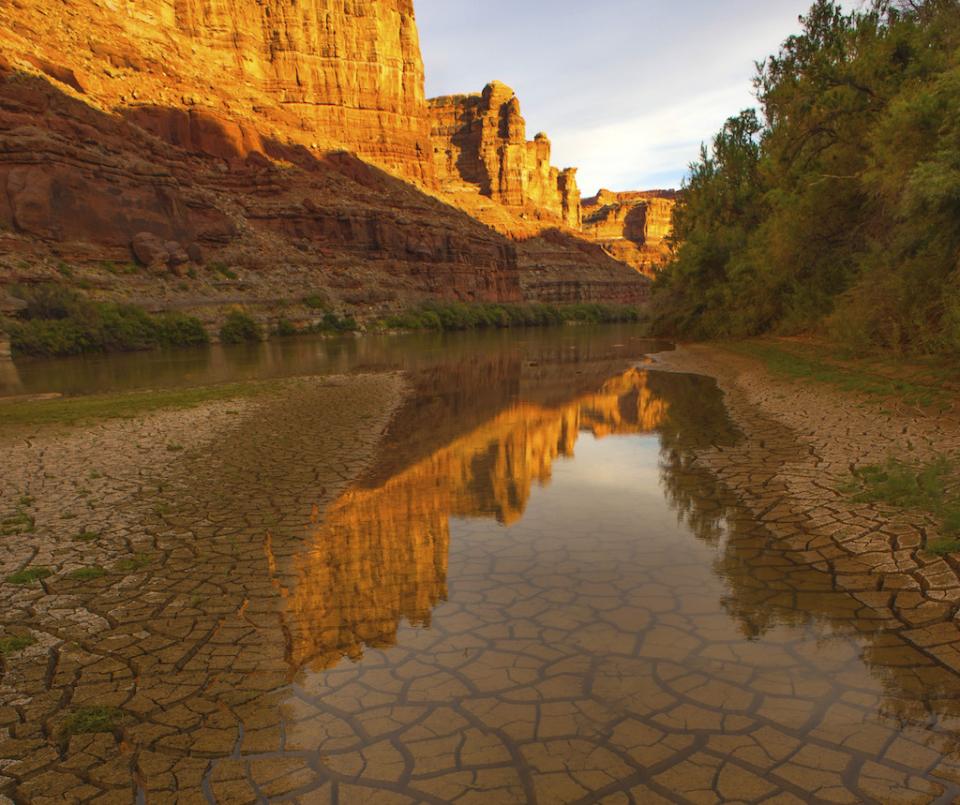 You can't say "At first glance" at Canyonlands National Park. It's just too big and complex to really take it all in. On the macro scale, it covers nearly 350,000 acres. It's carved by two major Western waterways: 47 miles of the Green River, and 50 miles of the mighty Colorado River. But it's much more than just a river canyon. It's a land of mesas and grasslands, slot canyons and water pockets, roaring rapids and clear streams. There are deer and bighorn sheep, native fish and frogs, cottonwoods and cacti, who all call this rugged landscape home.
Over millions of years the sediments were laid down, then revealed by erosion, in layers of colorful sandstone. The vanilla, caramel, chocolate, and strawberry cliffs look like a giant cake of stone layers, but one that was left it out in the rain. It might be 100 degrees on the Colorado River at 3,730 feet, but snowing high up on Cathedral Point at 7,120 feet.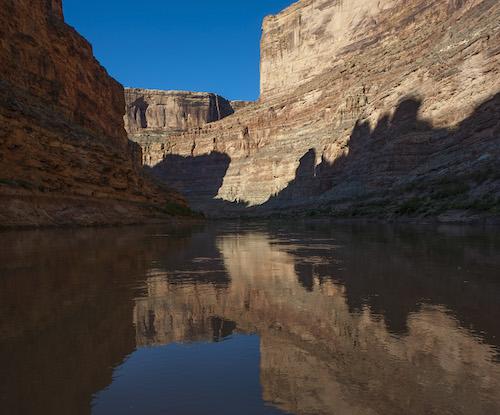 It's a huge playground too, attracting hikers, rafters, mountain bikers, and campers, nearly 750,000 visitors in 2018. Low water in Lake Powell downstream in Glen Canyon National Recreation Area has even revealed long drowned rapids. Canyonlands and nearby Arches national parks feed the gateway tourist town of Moab, Utah's economy.
But the entire region is changing before our eyes, locked into an extended drought, and the climate forecast is grim: warmer and drier. With atmospheric carbon dioxide at its highest level (around 407 parts per million) for at least the past 800,000 years, ecosystems are threatened, rainfall is unpredictable and, a hot and dry desert is going to get even hotter.
What Will The Future Bring?
What can we expect to happen in the next 5, 10 or 50 years? Terry Fisk is the chief of resource stewardship and science for the National Park Service at Canyonlands, and he's not exactly sure.
"The part where climate change plays in, we can't really depend on the past as a guide to what to expect in the future," he said as we sat in his Moab office. "The global situation in the Four Corners area, and particularly San Juan and Grand County (Utah), we are already above 2 degrees Celsius (warmer). And, the Four Corners area, on the U.S. Drought monitor is back in a drought. … We're in an unexplored environment for CO2 in the atmosphere. We don't have any experience in that."
The Colorado River flows are also forecast to diminish, according to Fisk.
National Parks Traveler Special Report supported by The Water Desk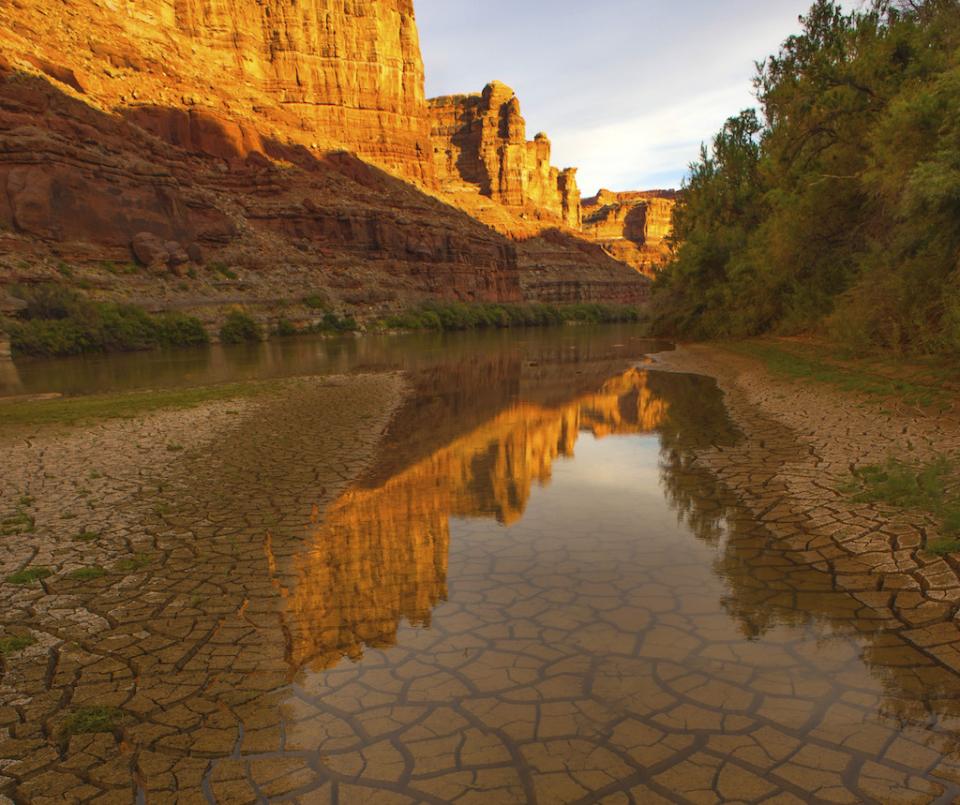 Climate Change At Glen Canyon NRA
Not enough water and too many invasives at Glen Canyon National Recreation Area
Sidebar: Climate change reducing Colorado River runoff
Sidebar: Colorado River Econ 101
"We want to prevent long-term reduction in flow that has a negative effect on ecosystem functions," he said. "I don't know if we can say that it's because of the flows or changes we have seen, since 1963 when Flaming Gorge dam gates closed, but that's been the biggest impact on the river."
"In 2012, the Bureau of Reclamation said that the Upper Colorado Basin had flows that declined by 300,000 acre-feet per year. The next couple of decades will be critical for us, but not in a satisfactory way, but more than likely we'll see declining flows," said Fisk.
One result of reduced river flows is the reduction in the amount of sediments transported by the rivers. This suspended sediment is extremely important to how the river functions.
But the National Park Service really has no authority on the how much water is in the rivers; that's determined by nature and the Bureau of Reclamation and other water managers.
"There's not much we can do. When I think of the river, we have local and regional climate impacts. We are not a headwater area," said Fisk. "They can have a great snow year and we can be in drought down here. A big storm locally won't have a big ecological impact, and sediment input."
While the Bureau of Reclamation has modeled river flows for the last decade or two, Fisk said the trends are not good on any of the models.
"How have things changed along the river corridor over the past 70 years, in the context with the pre-dam situation? What we may expect going forward?" he said. "The pace of what's changing, that's amazing. There are no real solutions. We just have to make the best choices we can with the flows we get."
And it seems that weather patterns too are being disrupted. Last year the summer monsoons, annual events that typically recharge aquifers and fill waterpockets and streams, were nearly nonexistent.
Video: Resource management in an era of climate change
Shifting Rains And Reduced Snowpacks
River guide and former Park Service ranger Herm Hoops has seen impacts on wildlife: "Bighorn sheep, especially rams, have increased along the river corridors along with ewes and lambs. Normally one would expect the rams to be at higher elevations in a sort of 'fraternity' until the rut. I believe that warmer temperatures higher up, and lack of moisture have moved them down to the river for feed and water."
Bird populations are being impacted as well by changing conditions. "Until 2013, black crown night herons, blue herons, egrets and bitterns were very common upriver from Sand Wash," said Hoops. "By 2015 the blue heron sightings were greatly reduced, and at that time no black-crowned night herons, only one egret, and no bitterns were sighted. It appears that something is causing lesser use and nesting of these wading birds.Something going on with Canyonlands. If that's climate, I don't know. I don't know what could be bigger."
Fisk agrees that "(T)he summer monsoons are one indicator of change."
Also alarming is that as the climate warms, snow levels in the high mountain headwaters are moving upwards. Above 10,000 feet. Below that level, precipitation is more in the form of rain, which is a big change.
Not only are the river flows decreasing, but the channels are narrowing, as well.
"In the last 20 years we have seen in Canyonlands, and other reaches on both the Green and Colorado, channel narrowing and simplification, because we don't get the massive 50-60,000 cfs flows anymore that would tend to take out riparian vegetation and increase the width of the river," noted Fisk. "As flows diminish, it provides a foothold for vegetation on both banks, especially tamarisk. My fear is that as flows diminish that we will worsen narrowing, and channel simplification because we won't be getting the volumes of water to move a lot of sediment."
Dr. Jack Schmidt is the director of the Center for Colorado River Studies at Utah State University, and has spent decades studying this same issue. He has seen the changes coming to the rivers.
"The Green and Colorado rivers are getting narrower, they are shrinking, they are becoming less complex physical habitat," he said. "Since 1940, the Green River is about 12 percent narrower by new flood plain formation and the sandbars are becoming overgrown by vegetation. The hydrology is that we have a more cyclic pattern. Now we have a couple of wet years, longer periods of drought.
"During the dry years, riparian vegetation invades the sandbars, gets established, tap roots get in and lock themselves in. The bad news is that in this narrowing, the culprit is sandbar willow, which is a native," said Schmidt. "It would be nice to blame it on an invasive, but it's not that simple. It's both native and nonnative vegetation."
So, while rangers and scientists are studying the current conditions, the real question is what to expect the impacts will be on river flows, flora and fauna, and vegetation.
Scientists are now looking to the past to predict the future. When John Wesley Powell explored the Green and Colorado in 1869, the river flowed at around 45,000 cfs, according to his journals. John Weisheit is the Colorado River Keeper, part of the Living Rivers network, and said, "In Cataract Canyon they saw fresh driftwood 50 feet above the river, and took a picture of a cottonwood tree with a stack of driftwood against it. We found that tree, and it's fallen over, and it's really far away from the river."
The paleo record has also recorded some huge flows. "I would say the last one of 700,000 cfs was around the year 1580 BCE," said Weisheit. "We've had max flows on the Colorado River of 350,000 cfs through Moab, twice in the past 2,000 years."
Today, that amount of water would more than likely flood the town itself.
Fisk is probably most concerned about the impact of climate change on the vegetation.
"What grasses or shrubs will be favored, and under what conditions?" he wonders. He is concerned about some die-off of pinyon juniper forests in the region. "It seems to be widespread in small locations. We see it here on Cedar Mesa in the Abajo area, and somewhat in our parks, and in northern and central New Mexico," said Fisk.
Weisheit is seeing the same thing. "The desert plants are changing, especially juniper and pinyon pine. They aren't regenerating, and a lot of pinyon pines are dying," he said. "If it's dry, junipers will abandon a limb, but now I'm seeing whole juniper trees dying. That's actually alarming to me. It's a plant adapted to dry conditions, but can't adapt to these particular conditions."
Video: USGS Scientists model a warmer and drier future in the desert Southwest
While we might not know exactly what the climate will be in the future, just south of Moab, in a sandy half-acre plot of land, set against some sandstone walls, USGS scientists Jayne Belnap and Sasha Reed have created a test plot to determine how vegetation might react to a warmer and drier climate. Key to ecosystem health are the biological soil crust communities, which hold moisture and secure the soil. These crusts are symbiotic partnerships between green algae, mosses, fungi, liverworts and lichens with cyanobacteria acting as a glue. To the eye they appear as crunchy soil, but are a critical component of the desert environment.
The plot, started in 2007, is the longest running desert experiment in the world. The soil is warmed by infrared lamps.
"There are sensors in the soil constantly monitoring the temperature at different depths," explained Dr. Reed. "The computer is comparing the temperature of the warm spots to the average of the spots without warming, and maintaining it above that average temperature by 4 degrees Celsius. It's incredibly effective."
A few test plots are partially covered to mimic drier conditions too.
"One thing we've learned the last few years," she continued, "is that the biological soil crusts love the winter. They're really taking up a lot of carbon and photosynthesizing. The warming in winter could have a disproportionately large effect compared to summer warming. These plots are teaching us new things every year. We're trying to do our best to create conditions to understand how these ecosystems change in hopes that we can help management understand options."
One unintended aspect of a warming climate is an increasing recreational tourism season. Rob Billerbeck of the National Park Service has been studying the relationship between increasing temperatures and visitation.
"In about 95 percent of the parks we looked at, temperature changes and visitation showed a correlation. There's just more time for recreation."
Emerging Rapids
But there's a flip side to river rafting, too; lower flows mean rockier rapids, with some at low levels being impassable. Hoops has seen this along the Green River.
"In the extended drought, river levels (flows) are generally lower," he said. "Rapids are formed from rockfall or debris washed into the river because of steeper side channels. Over time, normal spring and fall flushes of the main river current make some form of passage for recreational activities like river running. The near closure of boat passage has already occurred on the San Juan River at Government Rapid."
Holiday River Expedition's Lauren Wood has seen changes in as well.
"Last year (2019), raft companies had to reduce their season and cut back the number of trips on the river because of diminished flows. In Cataract Canyon inside Canyonlands National Park we are seeing the over-use of the Colorado River system equating to a significant draw-down in "Lake" Powell," she said. "This means each year we wait to see what new zombie rapids may come back to life as the Colorado River cuts a new path through the former high-water lake bed sediments."
Mike DeHoff has been a boatman in Cataract Canyon for years. As Lake Powell water receded, he and others had more rapids to run at the bottom of the canyon.
"When the lake was full, it would inundate 65 percent of the canyon," he said. "When you would run the Big Drops, the biggest rapids in the canyon, while scouting you'd see jet skis and house boats. But that all changed around 2000 when the reservoir (Lake Powell) receded 100-150 feet very rapidly. The river was flowing across its own sediments. We thought it would be a short-term thing and the lake would come back up to its level, but that didn't happen. Over the last 15 years, the river has slowly been carving back more rapids in that area.
Video: Boatmen in Cataract Canyon document changes in Lake Powell
Gypsum Canyon rapid has the potential to be a major rapid again, as John Wesley Powell noted in his own journals. DeHoff, along with boatmen Bego Gerhardt and Peter LeFabrve, have been comparing historic photographs with current images to understand its true nature, but 50 years of sand, silt, and sediments still line the river's banks.
"It's like mini geologic time, it's erosion," said DeHoff. "It's eroding at our time frame. You see banks collapsing, and see how silt is being flushed out of the side canyons. It's trying to restore itself down there."
National Parks Traveler Special Report supported by The Water Desk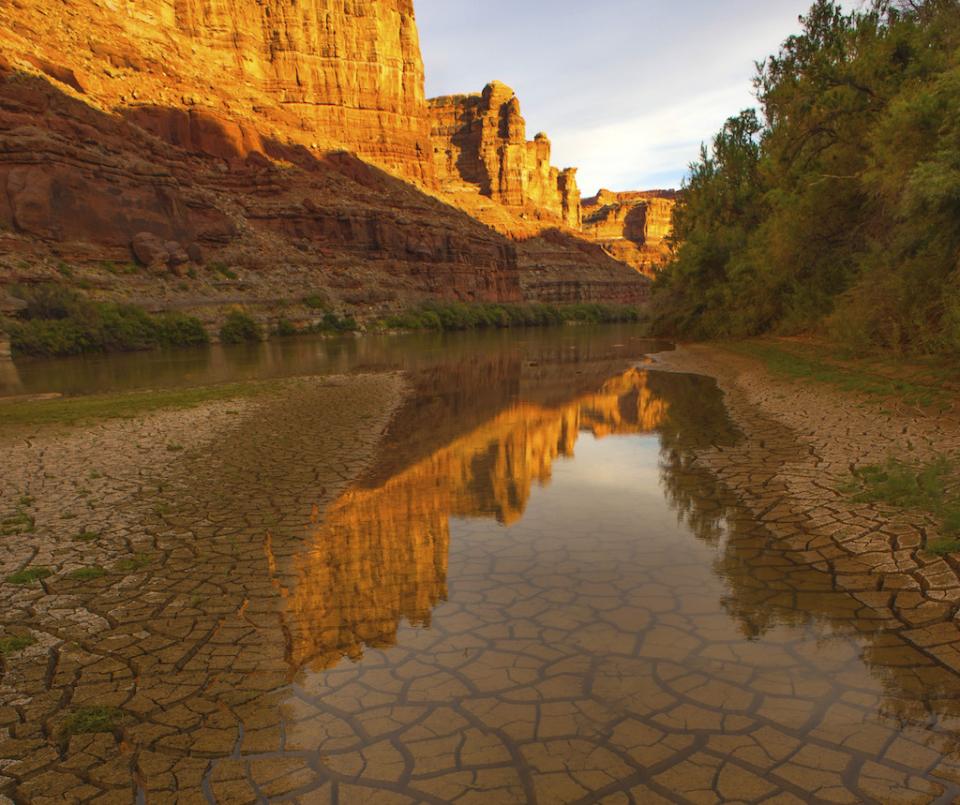 Climate Change At Glen Canyon NRA
Not enough water and too many invasives at Glen Canyon National Recreation Area
Sidebar: Climate change reducing Colorado River runoff
Sidebar: Colorado River Econ 101
Changes are here, and more are coming, some caused by human manipulation of the river's headwaters, others by a climate changing before our eyes.
"In 2018, the Yampa River was closed to (water) withdrawal for the first time ever," recalled Hoops. "It's either poor math or understanding. It's certainly obvious."
Dr. Jack Schmidt agreed.
"Flaming Gorge Dam affects half of the flow coming, but the future of the river in Canyonlands will mostly be affected by decisions in how to manage the Yampa River," he said. "The Park Service is largely powerless to affect to the primary drivers, which is the flows in the river, amount of water in the reservoir, the temperature of the water, or how much sediment the river has available to move. The large interregional rivers are not the responsibility of the parks, though it probably should be that way."
With an entire ecosystem in the balance, a changing climate could lead to a water emergency for 40 million users downstream, and an environmental disaster.
"We just need to adapt to climate, we've never done it in our history," pointed out Weisheit. "It's about time. One thing is for sure, there's just not enough water.  The party's over." 
Longform Story CSS Block