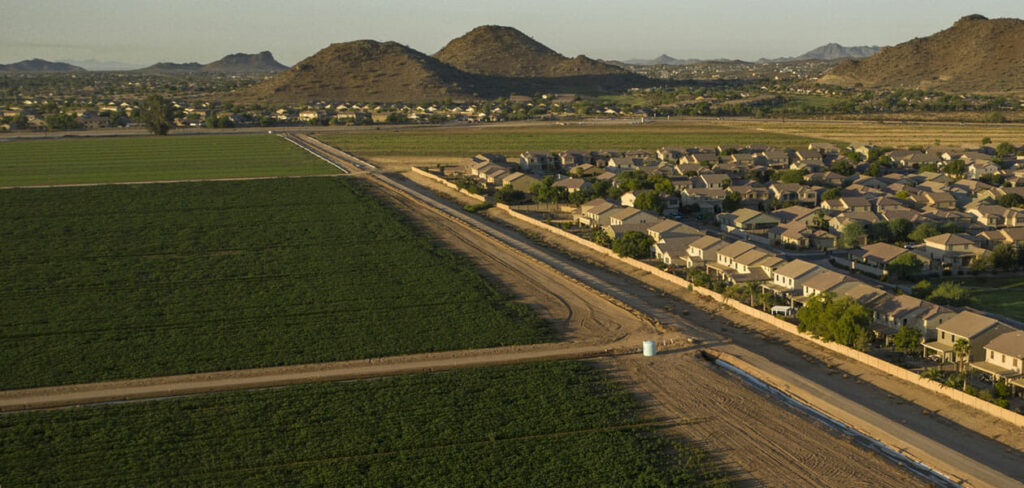 Photography by Bill Hatcher
You could almost visit Arizona without noticing it was a farming state. If you flew into Phoenix in an aisle seat, for instance, and spent your time in the city, you might not see it. But if you happened to drive south beyond the car shops and warehouses, across the sandy flats of mesquite and creosote, over dry arroyos, and past the groves of Saguaro cactus that really do stand like sentinels, you would eventually look up from the road to see fields of technicolor green. It may seem otherworldly after so many monochromatic miles, but irrigated agriculture has been a part of this desert landscape for more than 1,000 years.
Lacking deep snow in the Rocky Mountains to feed it, the Colorado River—which supplies some 40 million people and 1.75 million acres of irrigated land—has dwindled. Its enormous reservoirs have drained to half-empty, and research suggests that climate change will contribute to a further 20 percent drop in streamflow by 2050.
Meanwhile, desert populations are booming, and there's no talk of limiting growth. States that rely on the Colorado have seen some of the country's highest growth rates for years. In 2018 Phoenix added more new residents than any other U.S. city. Facing scarcity, the state's longstanding economic and political order is shifting, with water and power flowing from its agrarian past to its urban future.
This story was supported by a grant from The Water Desk, an independent journalism initiative based at the University of Colorado Boulder's Center for Environmental Journalism.