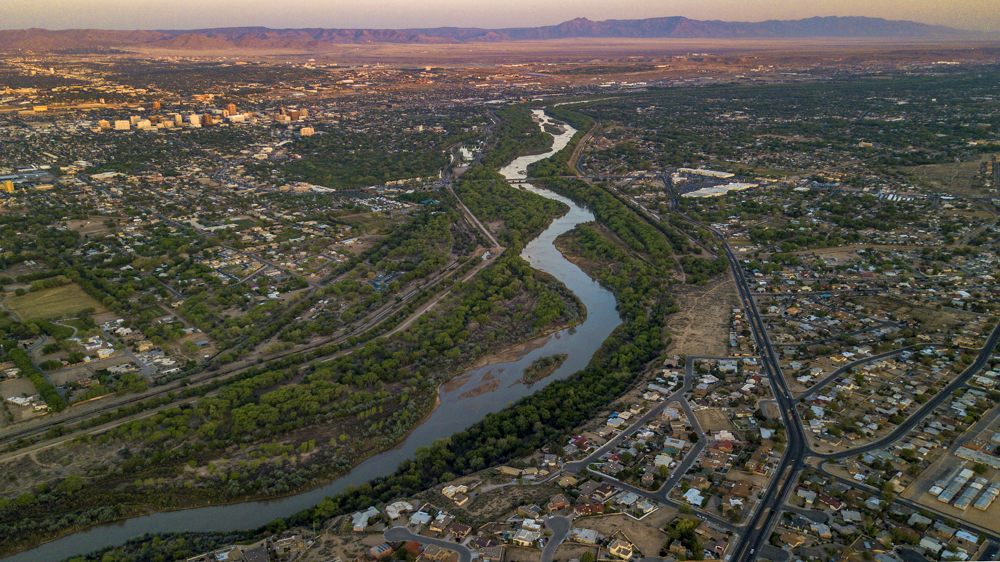 The Water Desk is excited to launch a new program to support water-related journalism in New Mexico and the Rio Grande Basin.
We were honored to recently receive a $50,000 grant from the Thornburg Foundation and a $50,000 matching grant from the Water Funder Initiative to expand our current work beyond the Colorado River Basin.
We'll be devoting the bulk of the new funding to supporting independent journalists and media outlets so they can produce stories on a variety of water issues confronting New Mexico. We're also interested in strengthening coverage of Rio Grande issues beyond the state's borders.
We will be making awards of up to $10,000. Journalists who are interested in the program can learn more about how to apply on this page. The deadline for applications is March 7.
The Water Desk will also be producing content related to New Mexico and the Rio Grande, including data visualizations and free photos/videos for our multimedia library.
Expanding our work to New Mexico and the Rio Grande is a logical extension of our work to advance water-related journalism. A portion of New Mexico is within the Colorado River Basin, so we've already supported some coverage there, including stories by New Mexico PBS and New Mexico in Depth.
In its upper reaches, the Rio Grande watershed is adjacent to the Colorado River Basin and the two rivers share many challenges: climate change, aridification, pollution, development, population growth, invasive species and more. But there are also important differences, and the Rio Grande has received considerably less media attention than the Colorado River.
As with all of our work, we will maintain strict editorial independence from our funders, as well as from the University of Colorado. Our funders have no right to review nor influence the journalism produced with our support.
The Thornburg Foundation is a Santa Fe-based family foundation that recently started a water program and also makes grants in the areas of good government reforms, K-12 education, food and agriculture, and community funding.
The Water Funder Initiative supports the work of The Water Table, a "collaborative of funders dedicated to identifying and activating promising water solutions through strategic philanthropic investments," according to its website.
We're grateful to the Thornburg Foundation and Water Funder Initiative for making these grants so that we can support journalists in New Mexico and beyond as they cover these critical issues. We look forward to strengthening water journalism at this pivotal moment.
Also be sure to check out our list of past grantees and the stories they've produced.
Questions? Please contact Water Desk Director Mitch Tobin at mitchtobin@colorado.edu